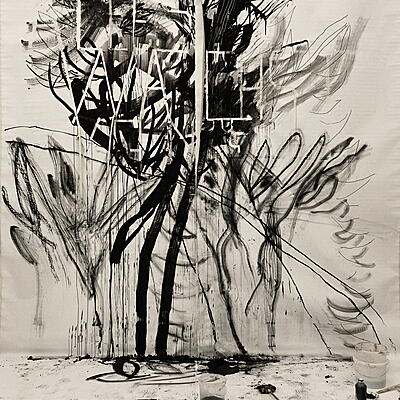 Andreas Usenbenz & Christoph Lammers
Drawing In Sound
Klanggold
KG026
LP: Clear vinyl, limited to 100 numbered copies, single sided LP, screenprinted b side, incl. insert
Drawing In Sound is a live improvisation, created by sound artist Andreas Usenbenz and illustrator Christoph Lammers for the exhibition opening of "Wiese" ("meadow") by artist and curator Andreas Pytlik at Städtische Galerie Rosenheim in the spring of 2018.

Prior to the performance, the artists exchanged ideas, drawings and sound improvisations to find a way of approaching the topic of 'meadow' in the context of contemporary drawing and contemplative soundscapes. During the performance, illustrator and sound artist entered a dialogue: Usenbenz created subtle sound textures and phonographic collages of rustling hay, records, guitar sounds, field recordings, tapes and effect devices.

Lammers opened all senses to both space and sound. Reacting intuitively, focussing on the moment and with great physical effort he composed his images, formed structures from lines and shapes. Using charcoal, ink, brushes and his bare hands, he filled the 7 by 4 metre canvas, vigorously at times, then almost delicately, providing stimuli in turn picked up by Usenbenz. Ultimately, this "conversation" between the two artists gave rise to a different interpretation: Everything grows of its own accord.

Played and improvised by Andreas Usenbenz, using objects, lo-fi microphones, contact microphones, field recordings, guitar, ebow, looper, ipad, dictaphone, cassettes, tape loops, op 1, field kit.
Drawn and performed on a 7 x 4 m canvas by Christoph Lammers, using different objects, ink, charcoal, brushes and his bare hands.
Recorded live at Städtische Galerie Rosenheim. Additional sounds recorded and edited at home.
Andreas Usenbenz & Christoph Lammers

:

Drawing In Sound

Drawing In Sound

Andreas Usenbenz & Christoph Lammers

21' 06''
Auch schön: