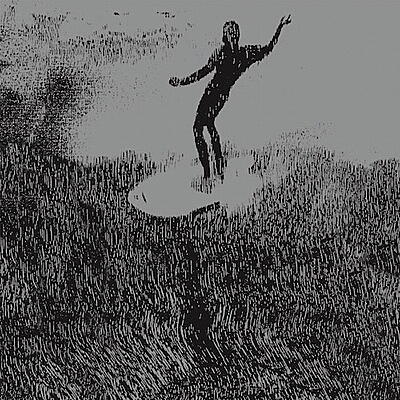 Anthology Recordings Surf Archive series releases the soundtracks to ANDREW KIDMAN's classic, genre-defining 1996 film Litmus, alongside his amazing 2006 follow-up Glass Love. Andrew Kidman is an Australian life-long surfer, film-maker, musician and artist, and Litmus is the now classic groundbreaking surf film which helped re-kindle the worldwide surf culture obsession of today.

The 20th anniversary edition - and first ever vinyl pressing - of the soundtrack to Litmus features the distinctly '90s slacker score from Kidman's The Val Dusty Experiment which truly elevates this experiential soundtrack. The soundtrack to Glass Love - also issued here on vinyl for the first time - comprised of original music written, arranged and performed by Kidman.

By the early '90s, surfing was on an upswing in popularity as professional surfers became marketable athletes. The three-fin, high performance, "thruster" shortboard was the tool of choice, lending to a fast-paced slashing style and ultimately a more aggressive "surf and destroy" movement in board culture.

Litmus, Andrew Kidman's first avant-garde surf film, served as a soulful reaction to the pop-punk progression that dominated the "alternative" mainstream. With the film's visceral and cerebral moodiness, folksy soundtrack, and meditative spirit, critics swooned over surf misfits like Wayne Lynch, Derek Hynd, Tom Curren, and Joel Fitzgerald. Despite the acclaim, the film was not much of a commercial success at the time. The aura of Litmus' soundtrack, however, has found its cultish corner in the surf world.

Prior to filming Litmus, Kidman's band, The Val Dusty Experiment, recorded a total of thirty-five songs in one day. The outcome of the "one-and-done" sessions was a lo-fi, rustic, experimental rock'n'roll sound, adding a rough-around-the-edges ambiance to the surf scenes that span Ireland, Australia, California, and South Africa. Additional contributions from Yothu Yindi and The Screaming Orphans diversify the score. Litmus was a defining moment in surf filmmaking - it sparked an open-minded retro-progressive movement as surfers formed a higher consciousness about the types of boards they were riding and why.

Kidman released his second film, Glass Love, ten years later. As with Litmus, the music came first; Kidman felt his songwriting was ready to take on a new life. Thanks in part to Litmus, experimentation in board design progressed as surfers became more contemplative, questioning, "is surfing art or sport?" Glass Love and its soundtrack highlights this mindset and time period, creating an extra dimension to surfing that is still prevalent today.
Andrew Kidman

:

Litmus OST (Various Artists)

The Val Dusty Experiment - Rain

Andrew Kidman

2' 00''

Wayne Lynch Quote

Andrew Kidman

23''

Yothu Yindi - Gapu

Andrew Kidman

2' 00''

Galaxie 500 - Listen, The Snow Is Falling

Andrew Kidman

2' 00''

Derek Hynd Quote

Andrew Kidman

21''

The Val Dusty Experiment - Mo Walker

Andrew Kidman

30''

The Val Dusty Experiment - Cow

Andrew Kidman

1' 19''

The Val Dusty Experiment - Time

Andrew Kidman

1' 14''

The Screaming Orphans - Black Is The Colour

Andrew Kidman

2' 00''

Joel Fitzgerald Quote

Andrew Kidman

07''

The Val Dusty Experiment - Green Hornet

Andrew Kidman

1' 16''

Tom Curren - Fire Jam

Andrew Kidman

2' 00''

Rosie Sutherland - Elizabeth

Andrew Kidman

2' 00''

Jon Frank - Dump Swimming

Andrew Kidman

06''

Hawaiian Surf Forecast

Andrew Kidman

1' 18''

Kevin Baker & The Val Dusty Experiment - Riding The Wind

Andrew Kidman

2' 00''
Auch schön: