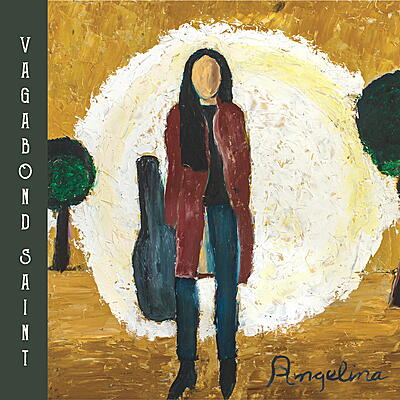 LP: Includes download, Incl. printed Inner Sleeve
Hailing from Ryde, on the Isle of Wight, it's easy to feel disconnected from the mainland, let alone the rest of the world. Flourishing among the island's run-down resorts, rolling countryside and windswept coves, Angelina's songs, and her debut LP Vagabond Saint, illuminate the beauty in finding yourself removed, thriving in your own cosmos. Where the old ways meet the new frontiers and anything is possible.

Growing up in a small coastal cottage, with the beach and country lanes as her playground, Angelina's English father would paint (see Vagabond Saint's artwork) and sing her to sleep every night. Her Chinese mother would teach Angelina to cook and sew whilst sounds escaped from the record player; those made great by Little Richard, Jerry Lee Lewis, sea shanty bands, gospel, 20s jazz singers, English folkies and country blues guitarists like Mississippi Fred McDowell and Blind Willie Johnson. "I was named after Dylan's folk song 'Farewell Angelina'," she says. 'Highway 61 Revisited and Bringing It All Back Home seemed to be on every day for years, it was played so much it sounded like an old crackly 78rpm gramophone record."

Listening to those recordings, Angelina would teach herself how to sing; Bessie Smith and Ma Rainey would guide the way for the young singer as she attempted to channel their spirit through her own unique voice. "I would practice a sentence from a track for hours. I remember hearing a field recording of female country blues singers working on the land and it spoke volumes to me. I learnt loads of the songs and rehearsed in different rooms which changed the sound of my voice; the bathroom was great for that moaning blues sound with its natural reverb."

Once, after testing out the reverb at a house party, Angelina's musical education continued when she was taught a valuable lesson by a travelling American blues singer, who told her through a whiskey-soaked miasma, "You got the tools but ya don't know how to use them". Undeterred, Angelina continued looking towards her heroes – Karen Dalton ("Everything about her vocal story and sound, her voice goes straight to the jugular"), Wanda Jackson, Memphis Minnie and Jo-Ann Key. Later finding herself Stateside, learning all the jazz chords whilst staying in the home of Hawaiian slide guitar guru, Bob Brozman.

The years passed honing her sound and songcraft – Angelina could often be found braving the elements busking the isles small towns. The epiphany was finding a kindred spirit in fellow island dweller and producer/multi-instrumentalist, Rupert Brown (Roy Ayres, Pete Molinari, Jill Scott, Robbie Robertson, Daryl Hall, and resident drummer at Liam Watson's Toe Rag studios). Giving the fruits of Angelina's old time influences their glory through a 21st Century vision, unusual instrumentation and raw mechanical production, Vagabond Saint's sonic cocktail accentuates the guts and grip of a true collaboration. "Rupert is a wizard and talks to the spirit of the song," says Angelina. "When I go to the studio it's like stepping in to a space ship; you can go anywhere it's an outer body experience...there's nothing quite like it. I went to the studio with a bunch of songs, my guitar and some homemade soup, and it all came from there."

A process of re-sculpturing and exaggerating observations of real-life, Vagabond Saint's lyrics are equally inspired by the art world; two tracks were written on day trips to London galleries and named after Alexej Jawlensky's 'Manola' and Paul Benn 'Vagabond Saint', when Angelina took it upon herself to create stories for the paintings depicting loneliness, which reached out to her. "I identify with the image of the vagabond saint, the lone wolf, mysterious figure, free spirited, thinker with no belonging...the Isle of Wight is a beautiful part of England but you create your own world behind your front door… your own dream shack where you can travel anywhere."

Resonating like porch-tales told by grandmothers from their rocking chairs whilst tumbleweed rolls across the dust bowls, Vagabond Saint boasts a truly rare nu-ranch sound capturing everything from isolation to celebration. Feelings that have been whistling down the wind for centuries and found a new voice in Angelina, which thankfully you don't need a ferry to hear it no more.
Angelina

:

Vagabond Saint

Dark Heart

Angelina

3' 01''

Rose Cascade

Angelina

4' 32''

Mandolin Man

Angelina

3' 05''

I Don't Cry

Angelina

3' 28''

January Butterfly

Angelina

2' 45''

Prayers and Grace

Angelina

3' 27''

Vagabond Saint

Angelina

3' 07''

Smokes Like a Dream

Angelina

2' 21''

Wild Cloud

Angelina

2' 21''

Sometimes

Angelina

2' 29''
Auch schön: