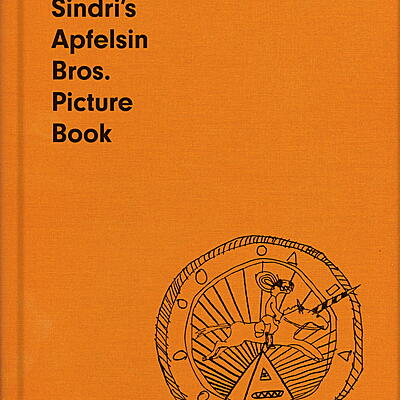 Book: ISBN 978-3-943482-00-3
Sindri from Sin Fang and Seabear and Örvar from Múm are good friends. They are tattoo buddies. They are football chums. They have travelled all over the world together in a tour bus. It's about time they made a book together. There is something similar about how these boys paint the world. There is a certain crudeness to their aesthetic unravellings, one could liken it to pancreas surgery performed with a spoon. And however colorful, lighthearted and festive their drawings, music or jokes are, there is always a certain self-reflexivity to what they spew. And to chart and map the reoccurring themes of the book, they have included a song. In two parts. It's a jolly romper.

This book contains 80 pages of drawings and it's covered in orange linen weave. Including a 5'' vinyl with digital download code of a collaborative song. Limited to 1000 copies.
Warning
: file(https://cluster-api.morrmusic.com/public/release/350c785f-710f-4d0a-ab2b-9a60137d015c/json): failed to open stream: HTTP request failed! HTTP/1.0 404 Not Found in
/tmp/smarty-cache/fcb4746ca777798cc1d9d1e1f74cc3e0^%%1A^1A1^1A1ACF11%%audioPlayerOxMedia.tpl.php
on line
22
Warning
: Invalid argument supplied for foreach() in
/tmp/smarty-cache/fcb4746ca777798cc1d9d1e1f74cc3e0^%%1A^1A1^1A1ACF11%%audioPlayerOxMedia.tpl.php
on line
27
Auch schön: