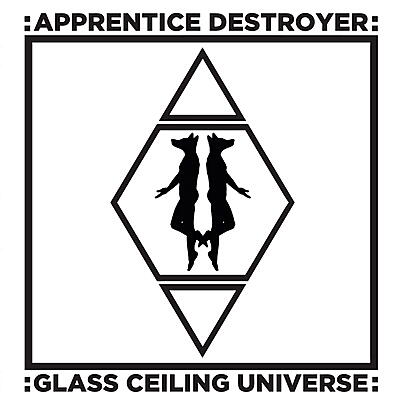 Apprentice Destroyer
Glass Ceiling Universe
Castle Face
CF 063 LP
Recorded one track at a time at Guitar Center, completely in secret, Apprentice Destroyer's debut Glass Ceiling Universe transcends its intriguing concept to highlight a hyperactive and omnivorous talent within.

These wide-ranging, kaleidoscopic instrumental compositions veer from the disorientingly complex to the achingly and delicately beautiful, all the while maintaining a metallic, misanthropic edge. It's almost as if computers were playing to each other across the sales floor, laughing at the puny humans attempting to create harmonics in air when they can do so perfectly in the vacuum of binary.

Glass Ceiling Universe is lifestyle music for all the cyborg assassins out there, and it's out on Castle Face Records.
Apprentice Destroyer

:

Glass Ceiling Universe

Chrome Temple

Apprentice Destroyer

2' 00''

Glass Ceiling Universe

Apprentice Destroyer

2' 00''

Jovian Sky

Apprentice Destroyer

52''

Downward To Greendeep

Apprentice Destroyer

1' 14''

Pulse Garden

Apprentice Destroyer

2' 00''

The Cloud Fortress

Apprentice Destroyer

2' 00''

Desert Light

Apprentice Destroyer

1' 19''

Metamammal

Apprentice Destroyer

2' 00''

Chromosome Choir

Apprentice Destroyer

2' 00''

Welcome, Destroyer

Apprentice Destroyer

1' 20''
Auch schön: