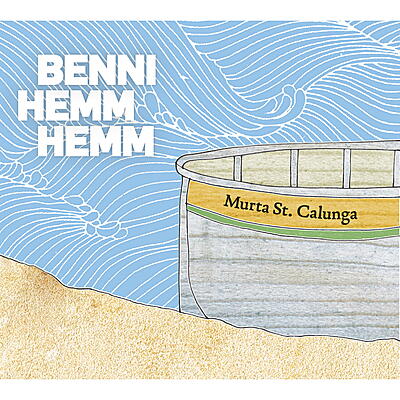 Benni Hemm Hemm
Murta St. Calunga
KR 005 CD
Benni Hemm Hemm's latest piece Murta St. Calunga has set sails for the distant shores of Kimi records, and has proven to be quite a monumental catch.
On this monstrously entertaining album Benni's search for a clear yet heavy sound has come to an end with awesome results. Recorded and mixed on tape, this nostalgic procedure produces an environment which fit the occasion and bring out the best of the band's amazing width.
Bigger, fatter and better than a minke whale, not only does this album represent the finest of Iceland's experimental scene, it's also packed with sly melodies which stick around in your head and dabble, months and even years after you first insert Murta St. Calunga in your stereo. The songs are powerful, nicely wrapped up in to giant string & brass arrangements where the instruments get to step up to the occasion.
The lyrics describe a fantasy journey through the world. Pakistan, Afghanistan, and Romania are among the destination, but also more surreal places, like an Icelandic Whale fishing boat in the North Atlantic. Even the pages of the award-winning novel Skugga-Baldur, by Sjón, become a destination in the instantly loveable "Veiðiljóð."
This record speaks in tongues, whether it be Icelandic, English, French or even the universal language of music. Each mind, each soul will be touched. The world is a fine place. The land of Murta St. Calunga is even better.
Benni Hemm Hemm

:

Murta St. Calunga

Beethoven Í Kaupmannahöfn

Benni Hemm Hemm

3' 50''

Whaling In The North Atlantic

Benni Hemm Hemm

2' 43''

Veiðiljóð

Benni Hemm Hemm

3' 33''

Avían Í Afganistan

Benni Hemm Hemm

3' 33''

Allt Sem það Fer

Benni Hemm Hemm

5' 46''

Fjalla-Eyvindur

Benni Hemm Hemm

2' 54''

Riotmand

Benni Hemm Hemm

3' 51''

Lokalagið

Benni Hemm Hemm

5' 40''

Murta & El Paso

Benni Hemm Hemm

3' 35''

Early Morning Rain

Benni Hemm Hemm

4' 37''

Beethoven Í Brasilíu

Benni Hemm Hemm

2' 14''
Auch schön: