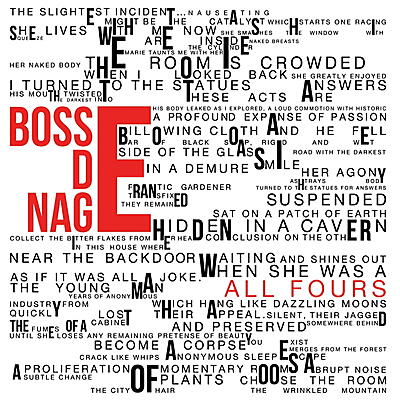 2LP: Incl. 12 page booklet
All Fours by Bosse-de-Nage is the mysterious Bay Area act's fourth and finest full-length. Monstrous and surreal, the album is a strange mix of black metal, noise and dark, post-modern lyrical themes. Comparisons range from '90s post-rock like Slint to fellow post-black metal brethren Deafheaven (the two bands released a split 12-inch in 2012), but the work stands on its own as a unique creation.

Recorded with Jack Shirley (Deafheaven, Botanist, Wreck and Reference), All Fours is the most immediate and accessible album in the band's discography, as well as the first to feature analog synths. The Flenser is proud to present Bosse-de-Nage's latest full-length on deluxe, double-disc vinyl packaged with a large twelve-page booklet.
Bosse-de-Nage

:

All Fours

At Night

Bosse-de-Nage

1' 30''

The Industry Of Distance

Bosse-de-Nage

1' 30''

A Subtle Change

Bosse-de-Nage

1' 30''

Washerwoman

Bosse-de-Nage

1' 30''

In A Yard Somewhere

Bosse-de-Nage

1' 30''

To Fall Down

Bosse-de-Nage

1' 30''

The Most Modern Staircase

Bosse-de-Nage

1' 30''
Auch schön: