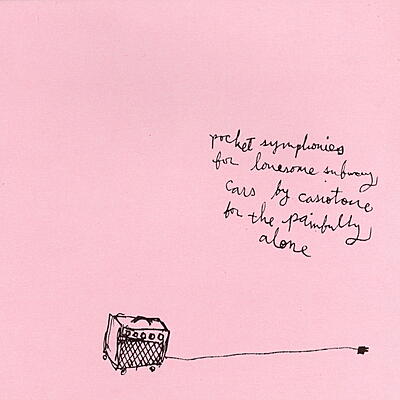 Pocket Symphonies For Lonesome Subway Cars
Tomlab
Tom016-lp
"Pocket Symphonies for Lonesome Subway Cars" is the follow up to Owen Ashworth's debut album "Answering Machine Music: A Brief Album in Twelve Parts". His first, self-released CD created quite some buzz in the SF indie scene with the help of frequent live performances and the devoted support of college radio. "Answering Machine Music" was spinning over and over at the Tomlab -- we fell so much in love with it that we asked him to release his second album with us.

"Pocket Symphonies..." continues in Ashworth's tradition of using battery powered electronics and voice to create his tiny, tragic love songs. Several of the new tracks also feature live cello and drum accompaniment to Ashworth's minimalist electronic arrangements. The songwriting, production, and even Ashworth's singing voice are more confident and ambitious, making" 'Pocket Symphonies" a smart, original, and surprising pop album.

Whereas the songs on "Answering Machine Music" were intended to be heard as a series of musical answering machine messages, "Pocket Symphonies..." uses Ashworth's obsession with public transportation as its theme. The 16 songs on the album utilize trains, buses, subways, taxis, and airplanes to move along their lovesick characters and create an atmosphere of transition.

The theme of movement and change is also indicative of new directions for Casiotone for the Painfully Alone. With a recent film score completed, a third album in the works, and a US tour planned for the spring, we can expect a lot more surprises from Ashworth and Casiotone for the Painfully Alone in the future.
Casiotone For The Painfully Alone

:

Pocket Symphonies For Lonesome Subway Cars

We Have Mice

Casiotone For The Painfully Alone

1' 57''

Tonight Was A Disaster

Casiotone For The Painfully Alone

1' 46''

Suitcase In Hand

Casiotone For The Painfully Alone

2' 26''

Caltrain Song

Casiotone For The Painfully Alone

2' 19''

Dying Batteries

Casiotone For The Painfully Alone

51''

Oh, Contessa!

Casiotone For The Painfully Alone

3' 27''

Bus Song

Casiotone For The Painfully Alone

3' 11''

Yr Boyfriend

Casiotone For The Painfully Alone

55''

Casiotone For The Painfully Alone In A Green Cotton Sweater

Casiotone For The Painfully Alone

2' 19''

Number Ten

Casiotone For The Painfully Alone

1' 28''

Destroy The Evidence

Casiotone For The Painfully Alone

3' 43''

Lesley Gore On The Tami Show

Casiotone For The Painfully Alone

2' 14''

13 - Oh, Lllinois!

Casiotone For The Painfully Alone

1' 55''

The Subway Home

Casiotone For The Painfully Alone

2' 45''

Air Port Samba

Casiotone For The Painfully Alone

1' 02''

We Have Mice

(Boombox Version)

Casiotone For The Painfully Alone

1' 58''
Auch schön: