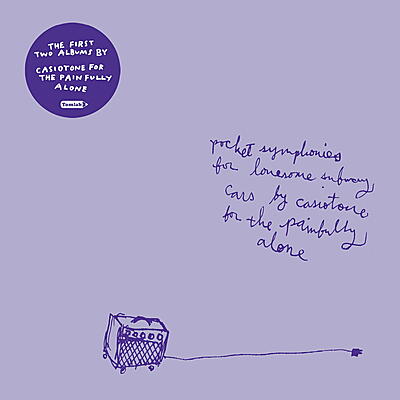 The First Two Albums By Cftpa
Tomlab
Tom055
Hi, my name's Owen Ashworth and I'm the dude from Casiotone for the Painfully Alone. The Tomlab people have asked me to tell you a few things about the new single CD reissue of my first two albums, Answering Machine Music and Pocket Symphonies for Lonesome Subway Cars. I know it seems a little soon to be remastering and reissuing two albums that have been in print since they were first released just a few years ago (who do I think i am? Kanye West?). For that reason, I would like explain why I made this thing.

Neither of my first two albums were ever mastered properly because at the time that they were made, I was a dumb, depressed kid who didn't really understand the point of mastering. I thought integrity meant making terrible sounding albums.

Since then I've had more experience with professional mastering engineers and I've realized how delightful they are to party with. I really started to regret that I didn't spend more time fancying up the sloppy recording and mixing I had done the first few times around. So, Tomlab paid a dude named Josef Suchy to remaster everything and I think the albums sound better now and I'm happy about that. Also, I'm really glad to have all of the words to all of the songs right there in the booklet so you can keep up with all of the bummer stuff I'm mumbling about. I guess I didn't like myself enough to mix the vocals at a reasonable volume the first time around.

The best part is both of the albums are now available for the price of one. Nice, right? So, if you're new to Casiotone for the Painfully Alone, you are getting a bargain-tastic chance to catch up on the back catalog. Or, if you are a total nerd, now you can rebuy the same albums with a different color cover and no bonus tracks.
Casiotone For The Painfully Alone

:

The First Two Albums By Cftpa

We Have Mice

(The First Two Albums)

Casiotone For The Painfully Alone

1' 57''

Tonight Was A Disaster

(The First Two Albums Version)

Casiotone For The Painfully Alone

1' 46''

Suitcase In Hand

(The First Two Albums Version)

Casiotone For The Painfully Alone

2' 26''

Caltrain Song

(The First Two Albums Version)

Casiotone For The Painfully Alone

2' 19''

Dying Batteries

(The First Two Albums Version)

Casiotone For The Painfully Alone

51''

Oh, Contessa!

(The First Two Albums Version)

Casiotone For The Painfully Alone

3' 27''

Bus Song

(The First Two Albums Version)

Casiotone For The Painfully Alone

3' 11''

Yr Boyfriend

(The First Two Albums)

Casiotone For The Painfully Alone

55''

Casiotone For The Painfully Alone In A Green Cotton Sweater

(The First Two Albums Version)

Casiotone For The Painfully Alone

2' 19''

Number Ten

(The First Two Albums Version)

Casiotone For The Painfully Alone

1' 28''

Destroy The Evidence

(The First Two Albums Version)

Casiotone For The Painfully Alone

3' 43''

Lesley Gore On The Tami Show

(The First Two Albums Version)

Casiotone For The Painfully Alone

2' 14''

Oh, Illinois!

(The First Two Albums Version)

Casiotone For The Painfully Alone

1' 55''

The Subway Home

(The First Two Albums Version)

Casiotone For The Painfully Alone

2' 45''

Air Port Samba

(The First Two Albums Version)

Casiotone For The Painfully Alone

1' 02''

We Have Mice

(Boombox Version - The First Two Albums)

Casiotone For The Painfully Alone

1' 58''

Theme From The Answering Machine Music (david Hanna)

(The First Two Albums Version)

Casiotone For The Painfully Alone

23''

When The Bridge Toll Was A Dollar

(The First Two Albums)

Casiotone For The Painfully Alone

2' 44''

Casiotone For The Painfully Alone Joints The Foreign Legion

(The First Two Albums Version)

Casiotone For The Painfully Alone

2' 37''

Cold Shoulder

(The First Two Albums Version)

Casiotone For The Painfully Alone

2' 08''

Rice Dream Girl

(The First Two Albums Version)

Casiotone For The Painfully Alone

1' 48''

Secretest Crush

(The First Two Albums Version)

Casiotone For The Painfully Alone

1' 54''

A Normal Suburban Lifestyle Is A Near Impossibility

(The First Two Albums Version)

Casiotone For The Painfully Alone

2' 42''

Baby It´s You

(The First Two Albums Version)

Casiotone For The Painfully Alone

4' 50''

You Never Call

(The First Two Albums)

Casiotone For The Painfully Alone

1' 50''

Daina Flores You ´re The One

(The First Two Albums Version)

Casiotone For The Painfully Alone

1' 52''

Beeline

(The First Two Albums Version)

Casiotone For The Painfully Alone

3' 48''

I Should Have Kissed You When I Had The Chance

(The First Two Albums Version)

Casiotone For The Painfully Alone

1' 19''

Hey Jelly

(The First Two Albums Version)

Casiotone For The Painfully Alone

2' 04''

Hotel Huntington Sign

(The First Two Albums Version)

Casiotone For The Painfully Alone

2' 32''

It´s Winter And You Dont Love Me Anymore

(The First Two Albums Version)

Casiotone For The Painfully Alone

3' 01''

Seattle Washington

(The First Two Albums Version)

Casiotone For The Painfully Alone

2' 13''
Auch schön: