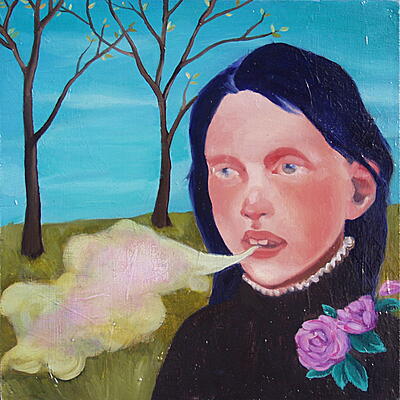 Casiotone for the Painfully Alone is the musical alias of 26-year-old American film school drop-out Owen Ashworth. Ashworth began making music in 1997 after he realized that song-making was a far more cost-effective means of storytelling than film-making.

Using only battery-operated keyboards and electronics as instruments, Ashworth has created a hybrid strain of raw, emotional, and very homemade synth pop that is as influenced as much by film and literature as by its more obvious musical counterparts. Casiotone for the Painfully Alone's claustrophobic two-minute character studies shudder with reverbed beats, blown-out chords, & simple-but-infectious melodies, layered beneath the sometimes funny but always heartbreaking lyrics of Ashworth's sighing baritone.

With two full-length releases, countless compilation appearances, & more than a dozen tours already under its belt, Casiotone for the Painfully Alone has garnered praise & support from such diverse figures as Kronos Quartet's David Harrington, DFA/LCD Soundsystem's James Murphy & San Francisco film director Jon Moritsugu, who featured nine of Casiotone for the Painfully Alone's songs in his 2002 award winning feature, "Scumrock".

For his third album on Tomlab, Casiotone for the Painfully Alone presents "Twinkle Echo ", a tiny tiger of a pop album, chock full of book-smarts, lovesick mood swings & calculated damage; simultaneously heartwarming & heartbreaking, comforting & jarring. Across its fourteen tracks, "Twinkle Echo " boasts Ashworth's most mature songwriting, arrangements & production to date, with guest appearances from Jamie Stewart of Xiu Xiu (5RC) and contrabassist Jherek Bischoff of Seattle's Degenerate Art Ensemble.
Casiotone For The Painfully Alone

:

Twinkle Echo

Blue Corolla

Casiotone For The Painfully Alone

2' 03''

Giant

Casiotone For The Painfully Alone

2' 11''

Twinkle Echo

Casiotone For The Painfully Alone

40''

To My Mr. Smith

Casiotone For The Painfully Alone

1' 52''

Jeane, If You're Ever In Portland

Casiotone For The Painfully Alone

2' 29''

Toby Take A Bow

Casiotone For The Painfully Alone

1' 00''

It Wasn't The Same Somehow

Casiotone For The Painfully Alone

2' 22''

Hey Eleanor

Casiotone For The Painfully Alone

1' 29''

Half Ghost

Casiotone For The Painfully Alone

3' 04''

Cftpa In A Yellow T-shirt

Casiotone For The Painfully Alone

2' 19''

Students For Scarves + Charm

Casiotone For The Painfully Alone

56''

Roberta C.

Casiotone For The Painfully Alone

3' 45''

Attic Room

Casiotone For The Painfully Alone

3' 09''

Calloused Fingers Won't Make You Strong, Edith Wong

Casiotone For The Painfully Alone

1' 43''
Auch schön: