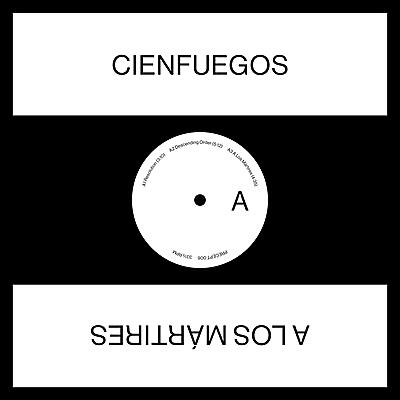 Incl. Instant Download
Miami ex-patriate Alexander Suàrez debuts on Unknown Precept with A Los Mártires. Conceived as an ode to those who spilt their blood in vane for political ideologies that failed them and countries that were never their homes, the five tracks that make up the release show the Brooklyn-based producer sinking into odd techno hybrids manipulation; shooting down unrestrained grooves, rusty samples, satured vocals while excavating lush sound exploration tinged by local folklore and grievous metallic tones.

In his own words, Suárez discloses that the embodiment of this strange intermingling sound like an organic and humming invitation to an uninhibited meditation on our inevitable assimilation into modern industrial society; an overarching rhythmic theme built on the idea that the resistance to and the seduction of these systems might trap us in a push and pull limbo from which the only escape is rage or submission.
Cienfuegos

:

A Los Mártires

Resolution

Cienfuegos

3' 10''

Descending Order

Cienfuegos

5' 12''

A Los Mártires

Cienfuegos

4' 36''

Correspondence

Cienfuegos

1' 24''

Faceless

Cienfuegos

7' 02''
Auch schön: