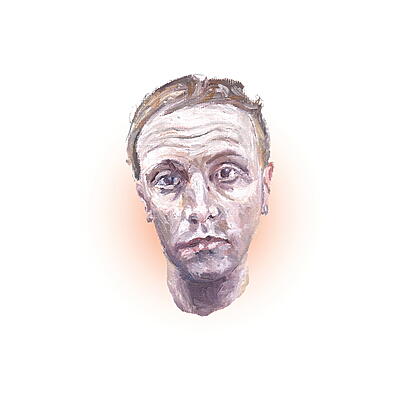 Competition
You Turned Into A Painting
Slip
SLP049
Captivating, lower case pop music from Newcastle-based Competition, coming off like Hype Williams meets Autre Ne Veut at Mica Levi's art-pop research lab. One spin thru the pinched vocals and sample chicanery of 'thisisfine.gif' should alert any keener ears to Competition's modest, naturally effortless, and comfortably fringe pop nous.

'You turned into a painting' is Competitions's Slip debut: laser-etched micro-songs of bruised vocals, sample grabs, and tenderised chamber MIDI.

Competition is Newcastle-based Craig Pollard, whose confessional productions also spill into curation and a wider visual art practice (much of it, recently, as one third of the 'Wild Pop' crew).

This mini-album sees Craig atomise songcraft, probing its remnants for signs of soul. Like the post-mushroom recall from which it takes its title, 'You turned into a painting' is a queasy scavenging of the mundane. Pollard's voice achingly wears as he circles through lilting observations; his arrangements squeeze something unctuous from innocuous browser snatches and lowly sample packs, eschewing tricksiness in favour of low-key, loving twists.
Competition

:

You Turned Into A Painting

Breaks

Competition

4' 34''

Cul de sac

Competition

2' 33''

Thisisfine.gif

Competition

2' 44''

Crystals

Competition

1' 04''

The surprising

Competition

3' 10''

Paris Rain

Competition

1' 24''
Auch schön: