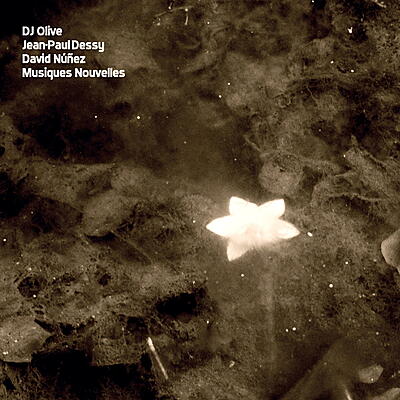 DJ Olive / Jean-Paul Dessy / David Nunez / Musiques Nouvelles
Scories / Live At Les Transnumeriques
Sub Rosa
SR417CD
Luminous electro-contempo collaboration between New York master DJ Gregor Asch (aka DJ Olive) vs Jean-Paul Dessy (and his Musiques Nouvelles Ensemble) and David Nunez on violin.

A new musical travelogue mixing sensitive strings with the records and sounds subtly sculptured by Gregor Asch
taking audience into their whirling love. Some magical moments vanish after the fact, but the thrill of listening to this untouched recording a few years later confirms that its delights are constantly renewed.
DJ Olive / Jean-Paul Dessy / David Nunez / Musiques Nouvelles

:

Scories / Live At Les Transnumeriques

Walking Slowly

DJ Olive / Jean-Paul Dessy / David Nunez / Musiques Nouvelles

Along The Line

DJ Olive / Jean-Paul Dessy / David Nunez / Musiques Nouvelles

Ghost Groove

DJ Olive / Jean-Paul Dessy / David Nunez / Musiques Nouvelles

Terra Alba

DJ Olive / Jean-Paul Dessy / David Nunez / Musiques Nouvelles

Pass The Potatoes

DJ Olive / Jean-Paul Dessy / David Nunez / Musiques Nouvelles

Scories

DJ Olive / Jean-Paul Dessy / David Nunez / Musiques Nouvelles

Comprovisation À Ixelles

DJ Olive / Jean-Paul Dessy / David Nunez / Musiques Nouvelles

Live at Les Transnumeriques

DJ Olive / Jean-Paul Dessy / David Nunez / Musiques Nouvelles
Auch schön: