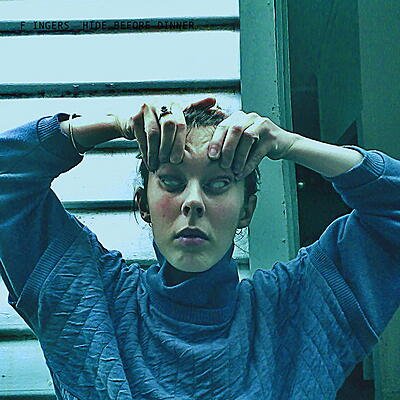 LP: Includes download, Printed inner sleeve
Um there's a lot I guess but I'm not sure nothing is clear, I guess for some reason childhood memories seemed to present themselves , this could be completely tokenistic. It has always felt like a deeper meditation than most other projects… more emotional and close. Usually I try to escape these feelings. I can't remember what I was feeling when we wrote this. I don't think I was happy. The first stuff we did that late night. This second stuff is a blur, maybe u can remind me. It's a meditation. I remember what I was feeling when I made that video..It's actually a pretty dark video, I start at my house and tried retrace my steps to my primary school girlfriends house but I got lost then I found. I went past the houses that were burnt down by the canberra bushfires and where we drove stolen cars. The last section traces the place were my former friend who turned tormentor lived I wanted to remember his house where all the dark shit started. When I went back to canberra I walked that video and didn't feel anything just a strangeness like that place is nothin. I still feel dominated by the events of Jennings st Curtin. Lol. I'm just trying to talk shit I guess create a myth feel a feeling.
This is of no help probably.

Extraordinary new LP from a group comprising Carla dal Forno (Tarcar), Samuel Karmel and Tarquin Manek (Tarcar, LST).

Deeply drugged, synth-daubed death-folk and DIY electronics of the highest order: acutely psychedelic, inscrutable but emotional, sunken but prone to soaring, with flashes of horror too. Beautifully conjures the mirth and murk of childhood summers...a relatable surburban gothic...grazed knees, hide-and-seek, nettle-stings. Trampled flowerbeds and failing light. Ghouls in your neighbour's garden. Think Nico meets Dome or Alison Statton wandering The Pickle Factory after dark.

If you dream you die, you die.
F Ingers

:

Hide Before Dinner

Escape Into The Bushes

F Ingers

4' 31''

Mum's Caress After Trip

F Ingers

3' 43''

Tantrum Time

F Ingers

5' 22''

Blissfull Cubby House

F Ingers

5' 12''

Useless Treasure

F Ingers

6' 59''

Under The House Hard To Breathe

F Ingers

4' 43''

Hide Before Dinner

F Ingers

5' 53''
Auch schön: