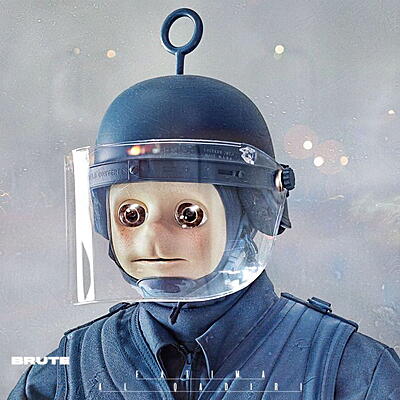 LP: Includes download, Incl. printed inner Sleeve
"Brute explores themes of authority and "the relationship between police, citizens and protest worldwide, particularly of her adopted home in the United States," according to the label; concerns made visible in the album's cover art, which depicts the Josh Kline sculpture 'Po-Po' heavily altered by art director Babak Radboy.

The album "teeters between rage and despair", heard through "restrained percussion, sampled and processed recordings of urban protest, and [Al Qadiri's] signature minor progressions," the label adds."
Fatima Al Qadiri

:

Brute

Endzone

Fatima Al Qadiri

1' 52''

Blood Moon

Fatima Al Qadiri

2' 00''

Breach

Fatima Al Qadiri

2' 00''

Curfew

Fatima Al Qadiri

2' 00''

Battery

Fatima Al Qadiri

2' 00''

10-34

Fatima Al Qadiri

2' 00''

Oubliette

Fatima Al Qadiri

2' 00''

Blows

Fatima Al Qadiri

2' 00''

Aftermath

Fatima Al Qadiri

2' 00''

Fragmentation

Fatima Al Qadiri

2' 00''

Power

Fatima Al Qadiri

2' 00''
Auch schön: