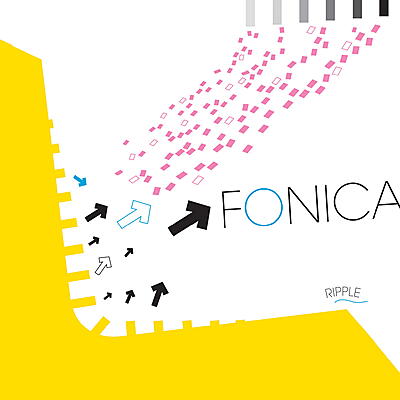 Fonica
Ripple
Tomlab
Tom026-CD
Fonica ist a male - female Duo from Tokyo, Japan - Keiichi Sugimoto and Cheason. Their debut "Ripple" (released as CD version in Japan) in November 2002 has been highly acclaimed in their home country and is now published by Tomlab in Europe and North America. The Tomlab version comes as CD/LP with special Artwork and a reduced tracklisting. The Japan release contains 2 additional tracks - remixes by Sogar/12k as well as by Mitchell Akiyama/Raster Noton.

Fonica use a lot of live instruments and DSP processing in parallel. Their approach of combining electronic and acoustic is very spontaneous and is so beautiful, revelling and dreamy in a way that can only be described by using the band Mum as a reference. "Ripple" works without ressorting to clichees or kitsch and somehow reminds "Endless Summer" - with Sack+Blumm waving their hands in the background.

The most wonderful part in all of this: "Ripple" doesn't sound like a typical, eclectic, japan style combination of references. Fonica have been inspired by quite a couple of things out there but at the same time they have managed to record an album that shows a unique character, verycharming, joyful - a pleasure to listen to.

A small ripple announcing a big wave? Definitely a very beautiful start into the springtime - and maybe they will be surfing into an endless summer, too!
Auch schön: