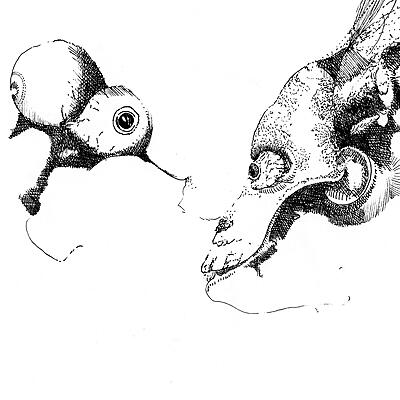 Incl. Instant Download
South Californian dons of occult electronics, German Army return to Discrepant with their first solo vinyl outing LP for the label after an inaugural tape back in 2015 and a split collaboration with Old Komm in 2016 .

Taking the events described in the 1982 book of the same title, the CIA coup in Guatemala in 1954, the duo eloquently translates this textbook case of bullying relationship between the United States and the Third World. Using some of U.S. government documents and interviews with former CIA agents they go deep in the Guatemala jungle through their trademark use of guitars and electronics drenched in echo and reverb of times past.

Another mysterious entry from the shady San Bernadino duo, showing their interest and research in poorly documented history of the 21st Century.

With specially commissioned artwork by Belgium artist Alexandre Vanleemput.
German Army

:

More Bitter Fruit

All is a Question - Insurrection - Crisis of Memory

German Army

5' 51''

Cochinat

(d)

German Army

3' 28''

Dessalines - Christophe - Backwards Habit

German Army

9' 12''

Palace(s) - More Bitter Fruit - Sovereig

(s)

German Army

8' 07''

Silencing the Past

(u)

German Army

4' 13''

Duvalierism

(u)

German Army

2' 43''

St. Marc

(d)

German Army

3' 24''
Auch schön: