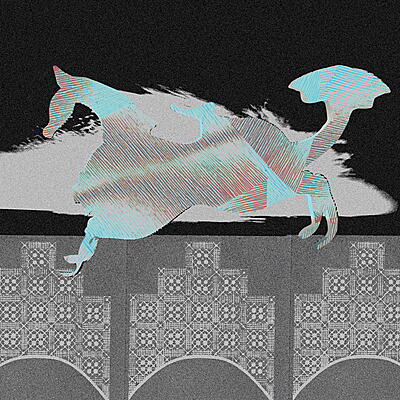 Incl. Instant Download
Gultskra Artikler is the throat-tangling moniker of one Alexey Devyanin and while we might not have heard a great deal from him recently, 'Abtu/Anet' has been excavated from the dusty Miasmah archives for a long overdue reissue. Not that it ever had a proper release; the astute followers among you might have managed to track down the very rare 'Abtu', which appeared back in 2007 on limited 3" cdr, but its companion EP 'Anet' never reached the shelves and seemed destined to permanent unavailability.
Devyanin's complex, surreal world was explored to wide acclaim on the '07 album 'Kasha Iz Topora', and thematically 'Abtu/Anet' feels like a continuation of that record. Devyanin's deeply original fusion of Radiophonic-era electronics, musique concrete, early European folk music and 1920s film scores is highlighted far further here, and somehow the record sounds more relevant now than it did five years ago. In an era where nostalgia is musical currency, Devyanin's Vaseline-smudged visions are refreshingly free of kitsch and Youtube-era restlessness. He retains a deeply Eastern European, near-theatrical focus in his work that is as intricate as it is unnerving, and he manages to keep the nostalgia to a specific (and unfamiliar) area of the world. For most of us, the album feels like a lonely journey in the light of a half-moon, with crumbling, curled branches glancing off our ragged clothes. Frightening and unrepentant yet deeply compelling – 'Abtu/Anet' should remind you that stories can be told without a single word of dialogue.
Gultskra Artikler

:

Abtu Anet

Berezka

Gultskra Artikler

3' 30''

In The Middle Of The Sixteenth Century

Gultskra Artikler

3' 17''

Intensivnost Otrajenia

Gultskra Artikler

3' 06''

Bojestvo

Gultskra Artikler

4' 01''

Pirat

Gultskra Artikler

3' 10''

Pobochnoe Deistvie

Gultskra Artikler

1' 47''

Glaznoe Dno Morskogo Chudisha

Gultskra Artikler

3' 08''

Daesh Uglya

Gultskra Artikler

3' 54''

Sluchai V Sosudah

Gultskra Artikler

3' 35''

Vsegda Krasni Cvetok

Gultskra Artikler

3' 06''

Izgnanie Demona

Gultskra Artikler

3' 30''

Shtoj Ti Delaesh

Gultskra Artikler

2' 37''
Auch schön: