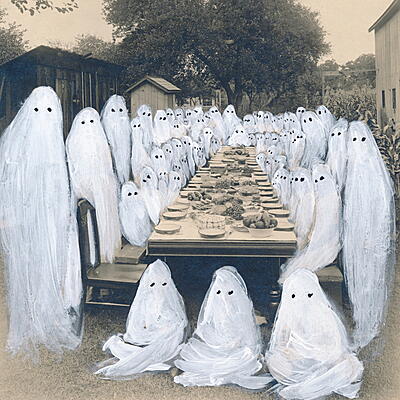 Incl. Instant Download
Back in November 2010, Czech music pioneers Gurun Gurun released their critically lauded self-titled debut on Home Normal. Named after a fictional planet from the old school Slovak childish sci-fi TV series "She Came Out of the Blue Sky", their musical work combines guitars, analogue synthesizers, turntables, acoustic instruments and digital effects to span musical spaces ranging from hypno-minimalist atmospheres to warm tones of slow moving, repetitive melodic stanzas. The quirky nature and melodic structure of their debut was regarded as innately Japanese, which perhaps isn't surprising given that the album featured the unique talents of Moskitoo, Sawako, and Aki Tomita.

The quartet of Tomas Knoflicek, Jara Tarnovski, Tomas Prochazka and Federsel have now followed this up over four years later with their sophomore album, 'Kon B'. The album is another supremely collaborative effort with special guests Alexandr Vatagin on cello, Irena & Vojtech Havel on alto & tenor viola da gamba, Mikel Etxegarai on drums and percussion, and last but not least, the wonderful vocal talents of Japanese artists Cuushe, Cokiyu, and Miko.

We are so lucky to have the opportunity to present this amazingly weird and wonderful album with stunning artwork by one of the most talented and highly-sought artists around today in Angela Deane. Angela's continuing series of mysterious 'Ghost Photographs' play on the human condition of memories, and what exactly they mean to us. This idea of the unknown but connected plays beautifully with the fragile lines drawn throughout Kon B, as they play with peculiar experimentalism and gorgeous child-like magical melodies.

To coincide with the release of 'Kon B' we are so happy to announce that Gurun Gurun will be taking their music in concert around the country of their seeming inspiration, and our home these past ten years now; Japan. We very much look forward to watching their weird and wonderful shows around the country after the great success of their show back in March 2014 at Cafe Oto in London.
Gurun Gurun

:

Kon B

Atarashii Hi

Gurun Gurun

4'09''

Itsuka no Hoshi / Hia

Gurun Gurun

3'57''

Shizumeru / Kiikii

Gurun Gurun

5'40''

Koe / Sukuu

Gurun Gurun

7'24''

Tsuki Ni Te

Gurun Gurun

5'36''

Beda Folten Supasuta

Gurun Gurun

7'43''
Auch schön: