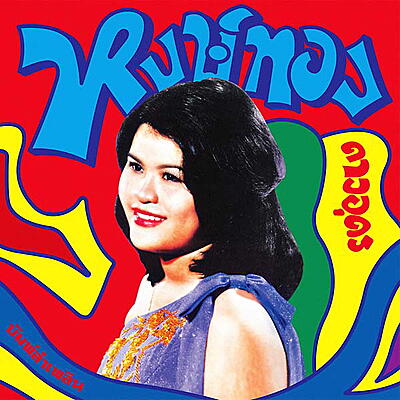 Hongthong Dao-Udon
Bump Lam Phloen: Essential Hongthong
EM Records
EM1142LP
How can we explain the power of music? How can songs delivered in a language that we don't understand move us so? This collection contains the very best songs from Hongthong Dao-udon, one of the great Thai singers of the "third generation" of Molam singers and one of the artists who succeeded in fusing Molam with Luk Thung, thus triggering a new generation of singers; in fact, she was the first to sing both genres from the beginning of her career, considering herself to be situated happily between the two styles.

But none of this matters, finally, to the listener. This is music, not musicology, and Hongthong Dao-udon sings to us, not the pedants. Her career was brief, and these songs from the late '70s and early '80s are her very best, showcasing her rich vibrato, her masterful control, and the undeniable emotional power of her voice, and carrying us from joy and whimsy to melancholy and desolation. Produced mainly by Doi Inthanon, a legendary independent producer, these songs were very popular in Thailand, and it is easy to hear why, with strong melodies, impeccable swing, interesting arrangements, and, of course, Dao-udon's thrilling voice.

With two songs previously unavailable on CD, as well as her first recording and her biggest hits, this is essential. CD includes 20-page booklet. Selection, liner notes, and cover art by Soi 48.
Hongthong Dao-Udon

:

Bump Lam Phloen: Essential Hongthong

Bump Lam Phloen

Hongthong Dao-Udon

Sa-On Siang Phin

Hongthong Dao-Udon

Hongthong Tam Faen

Hongthong Dao-Udon

Lam Ro Rak Chak Saudi Arabia

Hongthong Dao-Udon

Hongthong Khanong Lam

Hongthong Dao-Udon

Nong Ni Na

Hongthong Dao-Udon

Som Tam Chao Kao

Hongthong Dao-Udon

Huai A-Ba-Ni-Bi

Hongthong Dao-Udon

Bo Mi Phi Thi Ilan

Hongthong Dao-Udon
Auch schön: