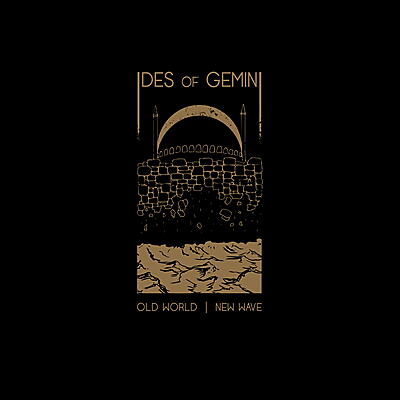 LP: Ltd. to 500 copies, letterpressed LP jackets & insert
In May of 2012, Ides Of Gemini unveiled their debut full-length, Constantinople. Its mere existence was a triumph for the three band members — Sera Timms (vocals/bass), Kelly Johnston-Gibson (drums/backing vocals), and Jason Bennett (guitar/backing vocals) — but other folks had some nice things to say about it as well. Spin magazine called it "Processional doom, [with] ethereal female harmonies and high-strung riffs [that] incite head-bowing, not –banging."

The learned scholars at MetalSucks chimed in with, "Their accretion of small musical gestures inverts metal's normal use of space. They imply terror without ever exposing it. Each song is an accumulation of outlines, a sort of sonic daguerreotype."

And About.com called Constantinople "a proverbial treasure chest in terms of atmosphere, ideas and contrasting musical textures…original and breathtaking." In the fall of 2012, Ides Of Gemini played a pair of shows with Old Man Gloom before embarking upon a European/UK tour that kicked off at Germany's South Of Mainstream Festival and saw the band play direct support to Saturday night headliners The Obsessed—and later to a full house at Holland's Incubate festival.

In January of 2013, Ides Of Gemini had the honor of opening for their labelmates (and label bosses) Neurosis at the Henry Fonda Theater in Los Angeles. A month-long North American tour as sole support for the anonymous Swedes of Ghost B.C. followed in the spring. This incredibly successful journey across the continent coincided with two new Ides Of Gemini songs on Hexagram 45, a special Record Store Day 7-inch released via Magic Bullet Records that had to be repressed before it even came out due to overwhelming record shop demand.

Upon their return to Los Angeles, Ides Of Gemini played shows with Boris, Deafheaven, and True Widow before hibernating to finish writing and rehearsing the material that would become Old World New Wave. "The founda-tion for Old World New Wave was laid before Constantinople even came out," Bennett reveals. "We had the title, most of the guitar tracks and basic arrangements in place at that point. We've been planning this record for a long time, so it's incredibly rewarding — and a total relief — to finally have it out."

Old World New Wave was recorded at Valley Recording in Burbank, CA, during the first week of February 2014. It was engineered and mixed by Chris Rakestraw, who did the same for Constantinople and is often noted for his work with Danzig. The album was mastered by Grammy-winning producer Matt Hyde, renowned for his work with Slayer, among others. The artwork and design, including the striking hand-drawn cover, were executed by drummer Kelly Johnston-Gibson.
Ides Of Gemini

:

Old World New Wave

Black Door

Ides Of Gemini

3' 21''

The Chalice The Blade

Ides Of Gemini

5' 23''

Seer Of Circassia

Ides Of Gemini

4' 11''

White Hart

Ides Of Gemini

6' 55''

May 22, 1453

Ides Of Gemini

4' 41''

The Adversary

Ides Of Gemini

4' 06''

Fememorde

Ides Of Gemini

3' 00''

Valediction

Ides Of Gemini

3' 10''

Scimitar

Ides Of Gemini

3' 52''
Auch schön: