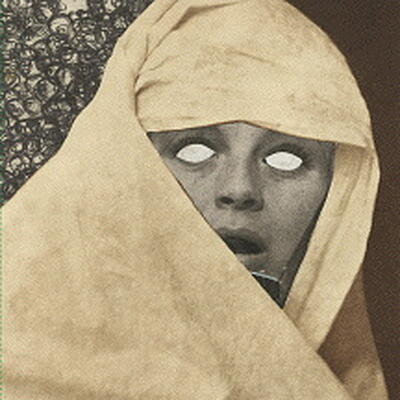 Between Two Skies / Towards The Night
Immune 006-lp
Between Two Skies/Towards The Night on vinyl, presenting the first two full length albums from Ilyas Ahmed in one gorgeous package. Featuring new gatefold collage art created by Ahmed especially for this release.

Limited to 987 copies pressed on high quality virgin vinyl at RTI and housed in an old-style tip-on gatefold jacket printed by Stoughton. Included is a coupon for DRM-free MP3 download

Pakistani-born musician Ilyas Ahmed traffics a sound that borders on the folk/drone/raga/rock axis, one that Scottish critic David Keenan has called "gone". Currently residing in Portland, OR, Ahmed has released recordings on Time-Lag, Digitalis, and Root Strata. He is known to perform live with Honey Owens (Valet) and Jed Bindeman (Eternal Tapestry, Heavy Winged) and his recent recordings have featured Liz Harris (Grouper). He first appeared in the Fall of 2005 with Between Two Skies & Towards The Night two albums that were released on CDr in editions of 50 copies. Even in editions so small these records quickly made waves and impacted anyone who was lucky enough to hear them. In 2007, Between Two Skies & Towards The Night were given a proper CD release by Digitalis.

Immune Recordings is now proud to present the ultimate edition of these two modern classics presented as a deluxe gatefold double LP. Featuring the original collage artwork printed in full color as well as brand new gatefold artwork created especially for this release by Ilyas Ahmed. The music was meticulously cut to vinyl by Roger Seibel at SAE Mastering in Phoenix, AZ and pressed on high quality virgin vinyl at RTI in Camarillo, CA.
Ilyas Ahmed

:

Between Two Skies / Towards The Night

Black Midas

Ilyas Ahmed

5' 17''

As Those Above

Ilyas Ahmed

5' 59''

Night Song

Ilyas Ahmed

5' 30''

To You Soon Silence The High

Ilyas Ahmed

16' 14''

Amajan

Ilyas Ahmed

5' 12''

This Dust

Ilyas Ahmed

4' 49''

Samanjhna

Ilyas Ahmed

5' 13''

Circular Sky

Ilyas Ahmed

7' 44''

Satanta's Hand

Ilyas Ahmed

14' 56''

Golden Eyes

Ilyas Ahmed

7' 36''

Shumsun

Ilyas Ahmed

13' 05''
Auch schön: