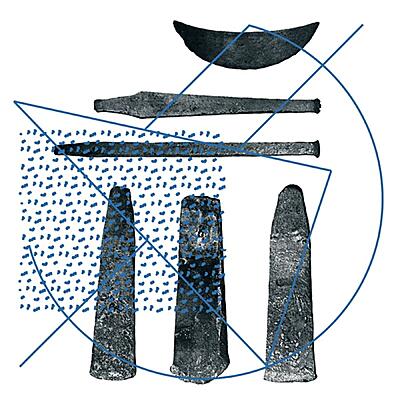 Incl. Instant Download
'Commercial Mouth' is the debut LP from Jar Moff, an Athens based artist working in collage forms. Following on from his previous remix on the Harald Grosskopf Synthesist / Re-Synthesist LP on RVNG last year, and a digital release for Leaving Records, this is his first full-length LP. Both his visual and aural oeuvre take the form of cut up and reformations in the manner of previous PAN stablemates like Joseph Hammer and Ghedalia Tazartes, remodeling the past in order to create something new out of the modern detritus, and nestles in nicely alongside the recent 'Diversions 1994-1996' release from Lee Gamble. The result is a baffling yet functioning head-on collision between early plunderphonics and an abstracted futuristic hip hop aesthetic.

The LP is mastered and cut by Rashad Becker at D&M, pressed on 140g vinyl. It is packaged in a pro-press color jacket which itself is housed in a silkscreened pvc sleeve with artwork by Kathryn Politis & Bill Kouligas.
Jar Moff

:

Commercial Mouth

Tziaitzomanasou

Jar Moff

12'24''

Commercial Mouth

Jar Moff

12'56''
Auch schön: