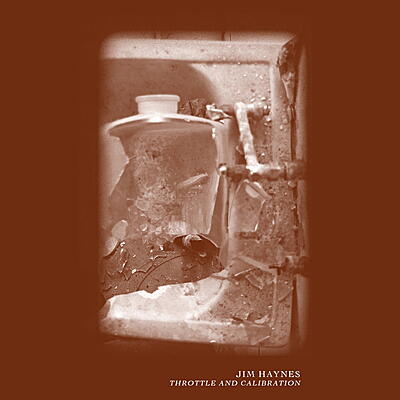 MC: Edition of 150 copies, fold-out Inlay on archival, classic laid Paper
In 2015, Jim Haynes accepted a residency at MoKS in the village of Mooste, Estonia to collaborate and contribute to Simon Whetham's Active Crossover series. For this particular incarnation of Active Crossover, well over a dozen international artists were invited to this region of Estonia to collect field recordings and engage in a cross-pollination of ideas, strategies, and concepts that spawned from those recordings. The refuse from Soviet-era industrial farming complexes, the droned blur of aeolian harps, massive oil tanks, and the torrent of noise from the Arctic wind ripping through an empty water tower -- these were some of the sites that this chapter of Active Crossover archived, with each participant encouraged to trawl through the archives in use of composition, performance, installation, etc.

Throttle and Calibration is the first in a series of albums that find Haynes digging through the Active Crossover archive and grotesquely exaggerating the details into exploded compositions of volatile dynamics, nerve-exposed dissonance, caustic shortwave signal abuse, and a considerable amount of scarred metal. Marked as one of the more discordant works to date in Haynes' career, Throttle and Calibration finds company near the Schimpfluch Gruppe's aktionist stains and the sour collages of 150 Murderous Passions (aka Nurse With Wound & Whitehouse).

Previously released digitally on Crónica, Throttle and Calibration is fleshed out with an additional 20 minutes of material. Haynes is a Bay Area artist, conducting research into the corrosion of sound, photography, and video. Previous recordings have been published by Editions Mego, Ghostly International, Intransitive, Hooker Vision, Elevator Bath, and the Helen Scarsdale Agency amongst others.
Jim Haynes

:

Throttle and Calibration

It Doesn't Matter

Jim Haynes

From The Sun's Limb

Jim Haynes

What Do You Mean By That

Jim Haynes
Auch schön: