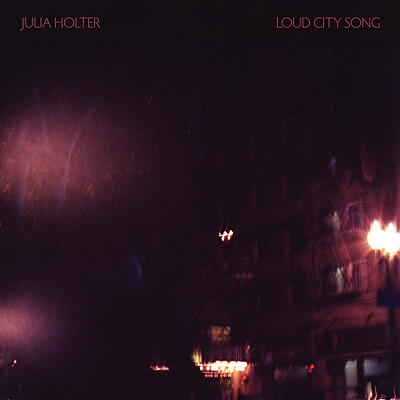 Loud City Song is the new studio recording by Los Angeles based artist Julia Holter, set for release by Domino on August 20th 2013 (August 19th in the rest of the world). The album is Holter's third full length release in as many years – following 2011's groundbreaking debut Tragedy and last year's follow-up, the critically lauded Ekstasis.
Her first studio album proper, Loud City Song is both a continuation and a furthering of the fiercely singular and focused vision displayed by its predecessors, taking as it does Holter's rare gift for merging high concept, compositional prowess and experimentation with pop sensibility and applying it to a set of even more daringly beautiful arrangements and emotionally resonant songs.
The songs that make up Loud City Song have origins that pre-date even 2011's debut Tragedy – coaxed out and finessed as demos in Holter's bedroom studio and then finally coalesced into one thrillingly cohesive experience in the latter stages of 2012 by Holter and co-producer Cole Marsden Grief-Neill and an ensemble of Los Angeles musicians. The result is an album of enormous ambition - taking its cues from the likes of Joni Mitchell and the poetry of Frank O'Hara but forging those inspirations into something resolutely unique.
Whilst Holter's recordings have always been defined by the scope of their musicality – Tragedy saw her malleable, hugely touching voice accompanied by synths, drum machines, cello, saxophone, keyboards, ensemble players, a chorus and more – Loud City Song sees her leave the limits of midi patches and home recording well and truly behind - adding even more intricacy and invention to her unique palette. Rich, fabulously textured and bathed in her own brand of heavenly ambience, it's a record that simply sounds tremendous and endows her songs with a grandeur and dramatic poise only hinted at previously – perfect given the cinematic nature of the material itself.
Julia Holter

:

Loud City Song

World

Julia Holter

4' 53''

Maxim's I

Julia Holter

6' 07''

Horns Surrounding Me

Julia Holter

4' 47''

In The Green Wild

Julia Holter

4' 08''

Hello Stranger

Julia Holter

6' 17''

Maxim's II

Julia Holter

5' 28''

He's Running Through My Eyes

Julia Holter

2' 19''

This Is A True Heart

Julia Holter

3' 31''

City Appearing

Julia Holter

7' 16''
Auch schön: