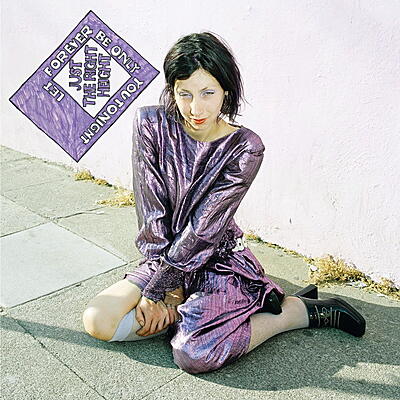 Just The Right Height
Let Forever Be Only You Tonight
She Rocks!
SHEROCKS003
LP: Limited to 300 copies
Just the Right Height is the solo music project of New York-based artist Keke Hunt. Hunt's stop and go, deconstructed songwriting is emotional and bare. Her undressing of the radio hit is so lyrically labrinthine, the urge to dance might escape you — and dance with me.

I Want to breathe

that old song

we danced to

Just the right height is an investigation of pop lyricism and a satire of feminine objecthood; The perfect size, The perfect longing shape to fit inside, the perfect fit. Just the right height is a rubber mouth. Formless liquid silicone poured into a mold that mimes agency, vocalization, but says nothing; careless. An empty silhouette, inciting arousal and movement. Mouthy, Vapid, Stupid, Hot; Vain and thoughtless song.

Tonight let's get drunk, tomorrow hold my hand.

In her album Let Forever Be Only You Tonight, Hunt writes lyrics by compiling text from an online lyric generator which outputs jumbled lines sourced from the lyrics of existing popular songs. Hunt exhales composited speech, a synonym of the virtual pop star whose personality program is compiled from the thoughts and feelings on her fans blog posts and online output; Her face surgically modified to reflect the image of her fans.

Heat rises from the spreadsheet city —
who knows if I was asylum bound

Rhythm stripped of melody is the dominant form in Hunt's musical work. Nevertheless, Hunt intersperses her catalogue with heartfelt, melodic tracks as if to tie a polite bow on a rude package.

For you and I,
So so thoughtless so,
thoughtless so,
thoughtless so careless.

Hunt's earliest released music was written in collaboration with Los angeles based painter Marisa Takal. The tracks released on their 2014 split with Odwalla88 are the product of a 3 year collaboration. Hunt has also collaborated with Multimedia Bryan Edward Collins on a project called Hard World Fashion. This album features a song co-written by Collins and Hunt. Since 2015 Hunt has released music under with tape labels such as Primitive Languages and ALL GONE tapes, under various titles, culminating in her current moniker, Just The Right Height. Let Forever Be Only You Tonight is her first full-length LP and release through She Rocks!
Auch schön: