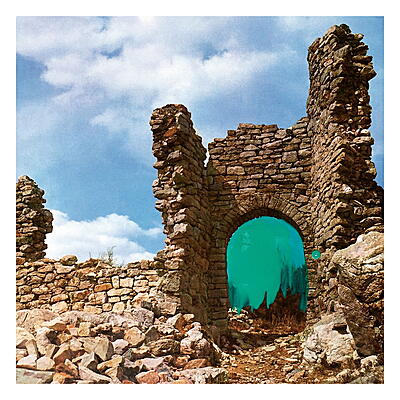 Hard to believe, but it's only been a year since Skläsh, Munich-based LeRoy's debut offering, made a huge splash, when countless trend-savvy media outlets dubbed it an electrified joyride, likened it to the discovery of an all-new orbital speed – or rather: a whole new dimension of time, space, everything. Indeed: Skläsh was (and remains) a globally-minded sonic time machine, fuelled by a refreshingly wayward and slack form of idleness.

And yet the world has changed and aged quite drastically over the last year – with lots of new scars, lots of bad news orbiting its overheating spheres: Whereas LeRoy personally went from strength to strength – visiting Vienna Winter Games, utterly amazing UK Festivals – Europeans had to face a shooting spree in Munich, an attempted coup in Turkey, too many Brits brexiting, and a Ba-ta-clan bloodbath on a horrible Friday the 13th: an increasingly steamy and explosive mix of events that led to a massive rightward swing and some hot debates that more often than not felt outright wrong and toxic. Enter Bambadea: An album born out of personal elation and European Weltschmerz.

Accordingly, Bambadea sounds both desolate and sun-drenched, gloomy and ecstatic – a para-doxical state that, in this current climate of extremes, actually has a subversive element of indetermination to it: These tunes feel both warm and cool, sexy and somber, sometimes even both high and heavy-hearted. Seen in this oscillating light, "Advantage of Nothing" with its slow-moving bolero vibes is, well, pretty hardcore: A disturbed, sweetly insane tune with a wicked dash of Brian Wilson-ism: all the happy-happy sounds are merely foregrounding, a feel-good lid to cover the pit.

Underneath, there's a steady downbeat push, a breezy marine glaze, as if time was indeed suspen-ded for an instant: A lacuna, the kind of blank space that adds three-dimensional depth to the inter-locked syncopation of these tracks – and that makes Skläsh's tunes almost seem clunky and clumsy in comparison. A more grown-up approach then (despite the fact that his debut release ended with 'Niemals erwachsen werden')? Not really. But clearly aged and matured. And severely so.

Album opener "Quirly Stu" sounds like Neil Young's fingers let go of his guitar for a second: only to roll a cigarette while watching a tarred drum. And then, still in the same breath: the process of burning off as metaphor – for dealing with Nichts (nothing), and Nichtsein, nonbeing. Only to in- and exhale in the next moment ("Happened From the Void"), send enormous puffs of smoke into the blue skies above – and see: "Love Is In the Air". Growing increasingly denser and more atmospheric, "Half the Way" encloses the listener like a sonic tunnel, and it's true: The flute that enters the picture towards the end is just that – a tunnel. A small tunnel filled with air in rhythmical motion.

And yet, while sunbathing and feathering one's thoughts in the gleaming light, there's ghostly voices, scraps of conversation amid the ebb and flow that perpetually hits these coastlines: an aquatic hustle and bustle, full of underwater sounds, that ultimately forms a maelstrom around "Coral Girl". It's the sheer intricacy of these tunes that makes Bambadea feel everything but aloof, everything but calculated or trying hard: This is pure pop as primeval force, the sound of eons combined to one big, harmonious ostinato.

Clearing the way to these ancient, prehistoric times is an onomatopoetic approach that ultimately – see "Exposure" – hints at a possible future. It's an approach that dares to move beyond English as lingua franca or Manu Chao-style multilingualism, but creates a whole new language instead, a Neue Sprache: Bambadea = Awopbopalubopalopbambum reloaded. Or is it an ode to the African Bamba River, near the equator, the birthplace of various Mbam languages? There's so many levels to this: After all, it's also nodding to the "Bambaria" – a call to slave rebellion during the Spanish colonial era.
LeRoy

:

Bambadea

Happened From The Void

LeRoy

3' 58''

Advantage Of Nothing

LeRoy

4' 25''

Half The Way

LeRoy

5' 57''

The Village

LeRoy

3' 10''
Auch schön: