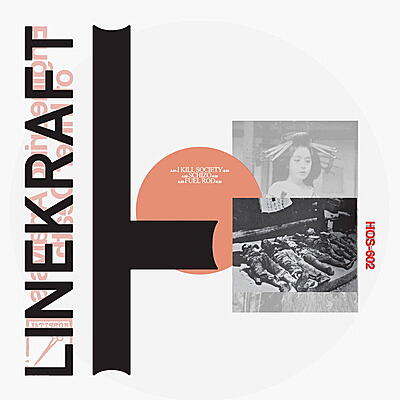 LP (color): Ltd. to 444 copies, clear vinyl, deluxe vellum sleeve
A killer blast of Linekraft's Japanese junk metal cut-ups and cyclonic noise, new on Hospital Productions.

Japan's foremost exponent of 'metal junk' cut-ups transposes the nihilist energy of his notorious live shows into this devastating debut LP for Hospital Productions. Hailed by Prurient's label as "the premier industrial performance unit arising from today's contemporary Japanese underworld", Masahiko Okubo a.k.a. Linekraft lives up to this mantle with a severely brutal suite of hacked and charred concrète noise.

Like his predecessor Kimihide Kusafuka's K2 ventures in the same arena (we imagine a cage, a bit like Robot Wars or MMA), Linekraft rudely manhandles his recordings of percussion and vocals, pitching them into a morphing torrent of abusive clangour and analogue chicanery with Kafkaesque results.
Linekraft

:

Engineering Analysis of Inner Death

I Kill Society

Linekraft

2' 00''

Fuel Rod

Linekraft

2' 00''

Urban Deterioration

Linekraft

2' 00''

Cleans Chamber Pt3

Linekraft

2' 00''

Flesh Kills Flesh

Linekraft

2' 00''
Auch schön: