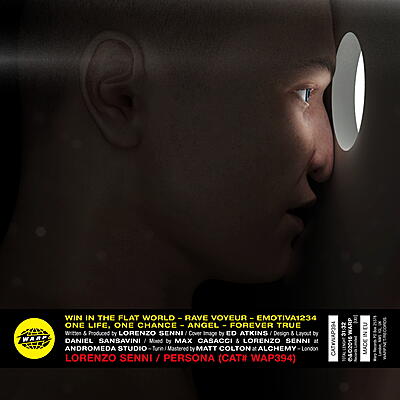 EP: Includes download, Ltd. to 1000 copies
Persona is Lorenzo Senni's debut for Warp Records and his most high profile release to date, a logical expansion of the key themes in his celebrated '90's trance studies' "Quantum Jelly" & "Superimpositions". Persona also emphasizes Senni's roots in straight edge Hardcore punk to form a closer portrait of him as an artist.

Lorenzo Senni reveals fresh insights into his hyper lucid take on '90's hard trance and its quintessential links to EDM and contemporary dancehall riddims, but tweaks the formula. Persona reflects a more elaborate schematic of emotions and sensations, whilst also introducing more complex, teasing chord patterns and orchestral flashes which are ingrained from his hardcore roots.

The nature of a raver's disciplined restraint from alcohol or drugs is core to Persona. Its six tracks dance along the blade of his Roland JP8000 Supersaws, pruning minimalist gestures and hooks into effortless pirouettes and abrupt jump-cuts that subvert upward linearity in favour of a deferred sense of gratification learnt from straight edge subculture. The artwork by Ed Atkins features an unnerving poignant CGI depiction of Senni's "Rave Voyeur".

Ultimately Persona is a reminder of a time before trance and makina were watered down to progressive house for wider markets, or the era before HXC was co-opted as Emo. And in that respect this EP dovetails with the efforts of SOPHIE, Plastikman, Ennio Morricone or Squarepusher in its realised need for something more visceral, which has often been lost in translation with modern music's cycles of death and rebirth.
Lorenzo Senni

:

Persona

Win In The Flat World

Lorenzo Senni

2' 00''

Rave Voyeur

Lorenzo Senni

2' 00''

emotiva1234

Lorenzo Senni

2' 00''

One Life, One Chance

Lorenzo Senni

2' 00''

Angel

Lorenzo Senni

2' 00''

Forever True

Lorenzo Senni

2' 00''
Auch schön: