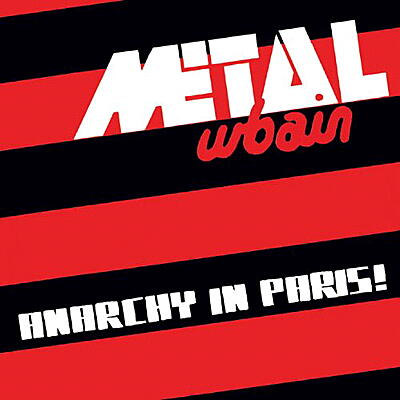 The concept was simple yet unique: marry the post-Stooges guitar aggression of the "class of 77" punk school with the artsy electronically-processed aesthetic of Roxy Music, Robert Fripp and Brian Eno. The sound: big killer punk rock guitar hooks, squealing textural synth noises, shouted French vocals, and a cheap, adrenalin-fueled drum machine. These tools were used in the context of songs that were on the cutting edge of avant electro-acoustic post-punk, while never losing touch with the Rock 'N' Roll roots of the band. This gave Metal Urbain a unique accessibility, making their music equally of interest to fans of classic Johnny-Be-Good rock as people seeking the most crazy intense noise being made at the time.

While most people were just discovering punk, Metal Urbain were blazing the trails for what was to become "post-punk", with a sound so distinct that Rough Trade would make them their first ever release.

However, like many of the best and most unique musical hybrids, it was all to easy for Metal Urbain to fall through the cracks. Perhaps too noisy for the punks, perhaps too catchy for the post-punks. Perhaps too French for everybody else.

Sure, echoes of Metal Urbain can be heard in popular indie bands from the '80s like Big Black and The Jesus and Mary Chain, but only now, almost 30 years after their first release, can their genius and foresight be fully appreciated.

Acute's Anarchy In Paris! includes all their releases, as well as several exciting unreleased tracks. And there couldn't be a better time then the present, as the music that has been emerging in the post-hardcore retro-post-punk post-electroclash world of the early 21st century shows Metal Urbain had remarkable forsight. As Jacques Amsellem says in his extensive liner notes, "Metal Urbain's trogglodynamite approach to the texturing of synth noise and oversaturated psychedelic punk guitars was just too much...too soon...25 years too soon...Time to catch up NOW"
Metal Urbain

:

Anarchy In Paris

Panik

Metal Urbain

2' 16''

Paris Maquis

Metal Urbain

3' 10''

Hysterie Connective

Metal Urbain

3' 10''

Lady Coca Cola

Metal Urbain

4' 12''

Cle De Contact

Metal Urbain

2' 51''

Pop Poubelle

Metal Urbain

3' 22''

Fugue For A Darkening Island

Metal Urbain

2' 32''

Ghetto

Metal Urbain

2' 41''

Ultra Violence

Metal Urbain

3' 17''

Futurama

Metal Urbain

1' 26''

Snuff Movie

Metal Urbain

2' 44''

Numero Zero

Metal Urbain

3' 47''

50_50

Metal Urbain

2' 45''

Atlantis

Metal Urbain

4' 09''

Anarchie Au Palace

Metal Urbain

2' 51''

E 202

Metal Urbain

3' 27''

Creve Salope

Metal Urbain

3' 05''

Hysterie Connective

(Mix 2)

Metal Urbain

2' 44''

Colt 45

(Demo)

Metal Urbain

2' 03''

Train

(Version 2)

Metal Urbain

2' 26''

Sweet Marilyn

Metal Urbain

4' 12''

Little Girl Of Love

Metal Urbain

2' 00''

Tango Sudiste

Metal Urbain

3' 02''

Panik

(Inst.)

Metal Urbain

2' 05''
Auch schön: