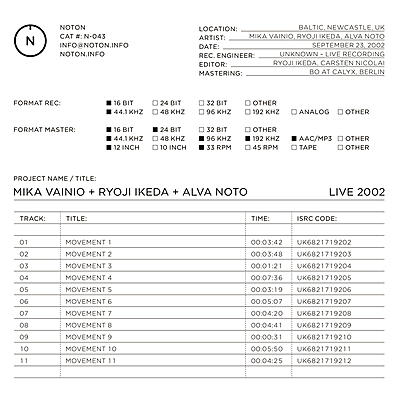 LIVE 2002 captures an inspired performance at BALTIC Centre for Contemporary Art in Newcastle by three revered, influential and like-minded pioneers; Ryoji Ikeda, Alva Noto, and the late, great Mika Vainio.

This recording marks the only ever concert by the trio and its release serves as a tribute to the much-loved Vainio. "Mika was not only a friend and collaborator, but also an inspiration for my work as an artist. This is a celebration of his contribution to our work", says Carsten Nicolai, AKA Alva Noto.

Minimal but highly effective, the performance builds throughout with deep sub bass, sleek, spacious sound design and high voltage, inorganic ambience. The inherent noise floor in studio equipment is pushed-up to take center stage. This is sound of electricity, the hum of the engine room and of technology operating almost independently, only gently coerced with artistic finesse by expert human hands. At points static is used decoratively with an ornate, delicate intricacy. At points it becomes rhythmic, like the innate repetition found in machinery. The sonic spectrum later opens up, evoking a rush with laser-like beams of audio light and a barrage of colossal, synthesized waves.
Mika Vainio, Ryoji Ikeda & Alva Noto

:

Live 2002

Movements 1

Mika Vainio, Ryoji Ikeda & Alva Noto

3' 42''

Movements 2

Mika Vainio, Ryoji Ikeda & Alva Noto

3' 48''

Movements 3

Mika Vainio, Ryoji Ikeda & Alva Noto

1' 22''

Movements 4

Mika Vainio, Ryoji Ikeda & Alva Noto

7' 36''

Movements 5

Mika Vainio, Ryoji Ikeda & Alva Noto

3' 19''

Movements 6

Mika Vainio, Ryoji Ikeda & Alva Noto

5' 07''

Movements 7

Mika Vainio, Ryoji Ikeda & Alva Noto

4' 21''

Movements 8

Mika Vainio, Ryoji Ikeda & Alva Noto

4' 41''

Movements 9

Mika Vainio, Ryoji Ikeda & Alva Noto

31''

Movements 10

Mika Vainio, Ryoji Ikeda & Alva Noto

5' 50''

Movements 11

Mika Vainio, Ryoji Ikeda & Alva Noto

4' 25''
Auch schön: