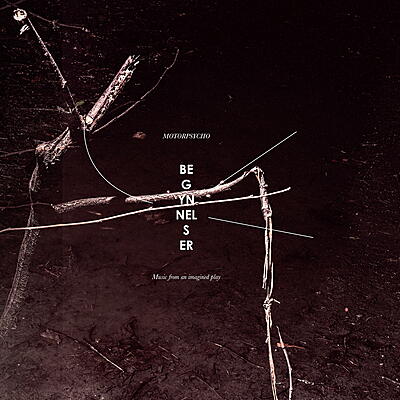 2x10": solid hardback "book-sleeve", incl. CD and DVD
Motorpsycho trade their walls of amps for Mellotron keyboards and acoustic guitars to take the listener on a stripped-down ambient adventure.

The music on this album was written for a project Motorpsycho was invited to be a part of by Trøndelag Teater in early 2015. It eventually ended up as the play "Begynnelser". The play was directed, designed and dramatized by the independent theatre group De Utvalgte based on a new text written by Norwegian author Carl Frode Tiller. It was produced and performed at Trøndelag Teater in Trondheim with a cast drawn mainly from their ensemble. Motorpsycho played live at every performance with an expanded line-up that included "utility psychos" Pål Brekkås or Tos Nieuwenhuizen. The play ran for six weeks in September and October 2016. Not all of this music was eventually used in the play. The band also wrote a lot more during preparations and rehearsals. It was a long process and most of the music was tweaked in a big way to fit the flow and feel of the play. It was also played live every night, so what you would have heard during the performances would in most instances have sounded very different from this album. The music is not sequenced in the order it was used in the play, and a lot of the music that eventually was played in the performances is missing from this album, so this is perhaps best described as 'a version of what it might have been' more than a document of what the soundtrack eventually ended up becoming.

The included DVD contains a complete 2 hour filmed performance of the play for those who want to see it and hear the final and complete music score performed in context. So all in all you get a lot of new, original Motorpsycho music. The play itself is reallly good with great visual presentation including some stunning video work. And English subtitles! The DVD also includes a fine documentary.

All this comes in a really nice, solid hardback "book-sleeve" with artwork by Kim Hiorthøy.
Motorpsycho

:

Begynnelser (Music From An Imagined Play)

Mærrabotn

(Fosen)

Motorpsycho

2' 44''

Terje's Sang

(Bøla 1)

Motorpsycho

2' 15''

Jaques Tati

(Kongensgate)

Motorpsycho

3' 25''

Trylleball

(Sannan)

Motorpsycho

2' 29''

Dekdektiven Roker Om Natten

(Figga)

Motorpsycho

2' 07''

Taterhjulets Gnaur

(Majavatn)

Motorpsycho

3' 25''

Englevinger

(Namskogan)

Motorpsycho

1' 16''

Sirkelpust

(Jørstadbrua)

Motorpsycho

4' 55''

Satan

(Namdalen)

Motorpsycho

4' 08''

Over Nyhavna

(Falstadvalsen)

Motorpsycho

7' 32''

Take Pa Fjorden Rinnan Kjæm

(Sør-Beistad)

Motorpsycho

4' 10''

Gutan I Skogen

(Sol Pa Sunnan)

Motorpsycho

6' 49''

Terje's Sang

(Bøla 2)

Motorpsycho

35''
Auch schön: