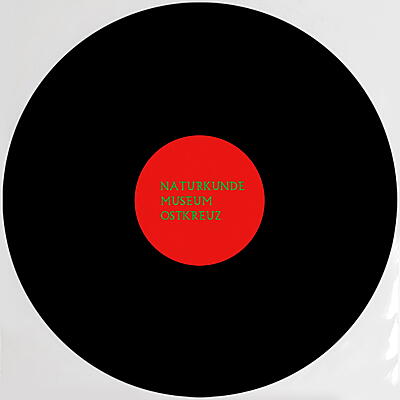 12": Ltd. to 500 copies, Vinyl housed in stickered poly sleeve, initial copies of blue vinyl
The Death of Rave are gassed to present the 2nd vinyl release of roiling, computerised No Wave by exciting pan-European duo, N.M.O. Under the mantra - As Strict As Possible - their 'Tropicalyptic Excursions' combine militant snares and amorphous SuperCollider shapes in disciplined dancefloor arrangements, p'raps best compared with a melted hybrid of Powell's cranky engines and EVOL's mutant rave signals dosed with Low Jack swagger.

They're dead strange, semi-organic dance creatures, stripped to the bare essentials of shifty rhythm and biting tone, bristling with a concentrated energy that belies their hypnotic, body- scattering effect on the 'floor.

Without resorting to overly masculine tactics or conventional structures, they carve a path from kinky, pendulous percussion and grinding globular bass squelch laced with computer gremlins in the title track, to the bashy, percolated jag of 'Talkingabouttalking' with its metal-tearing build-up, and over to the whooping industrial bounce of 'Zaragoza Variations', cut loud and clattering for the B-side by Matt "The Alchemist" Colton.

Like the duo's striking 'Nederlandse Maatschappij Ontwikkeling' 12" and 'Dominant Akkord' cassette for Barcelona's Ano`mia label, this 12" is a refreshing inversion and diversion of dancefloor strictures - getting down with a wickedly raw, awkward and freaky rave flex. If you ever get
the chance, make sure to check their aerobic live shows for a radical take on contemporary live electronic performance.
Naturkunde Museum Ostkreuz

:

Tropicalyptic Excursions

Tropacolyptic Excursions

Naturkunde Museum Ostkreuz

00' 00''

Talkingabouttalking

Naturkunde Museum Ostkreuz

00' 00''

Zaragoza Variations

Naturkunde Museum Ostkreuz

00' 00''
Auch schön: