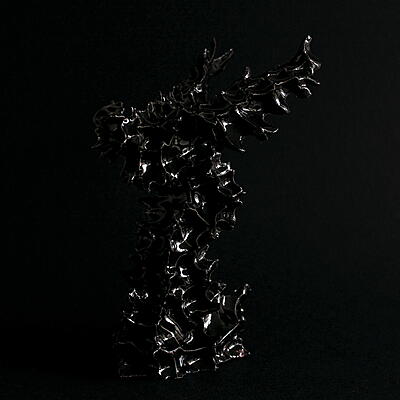 LP: Edition of 300 copies
Many years in the works, Ogon Batto finally unleashes his album "Hedoro". A journey into Japanese soundtracks and 90's adventure-gaming.

Ogon Batto is Bent Von Bent from Antwerp, Belgium. Besides working as a visual artist around archiving systems and collections, he is also the co-runner of the Hare Akedod label, together with David Edren aka DSR Lines. Following his debut release, Ogon Batto secretly started working on a second album Hedoro, meaning "slime" or "chemical ooze".

Bent is immensly fascinated by Japanese traditional and contemporary culture ever since he first visited the country. Mixing his European background with these Japanese influences, he shifts easily between abstract electronic tracks and pieces with a more classical Japanese tool kit. Think Oneohtrix Point Never or Mica Levi composing a soundtrack to a fantasy game.

With an amazing sense for detail Hedoro's musical story - entirely composed with synthesizers - is reduced to a collection of situations and drama, with space for suggestion and imagination. Every track, how short it may be, is essential to the whole, maximizing the general dramatic effect.

The album was mixed in Sapporo, Japan with the typical sounds of cicadas on the background ( not on the album though ) and some glasses of sake. The ceramic sculpture on the front cover is a reinterpretation of Rolls Royce's "Spirit of Ecstasy"and is created by Benny Van den Meulengracht-Vrancx.
Ogon Batto

:

Hedoro

Main Theme

Ogon Batto

2' 40''

Cup Bearer

Ogon Batto

1' 42''

Theme

(Choir Reprise 1)

Ogon Batto

14''

Re-Encounter

Ogon Batto

1' 30''

Veil Voltage

Ogon Batto

2' 23''

Garden

Ogon Batto

1' 41''

Balcony

Ogon Batto

2' 22''

Intermorse

Ogon Batto

35''

Europe Evening Dress

Ogon Batto

1' 16''

999 Fanthoms

Ogon Batto

1' 14''

Speedboat Sphinx

Ogon Batto

2' 45''

Theme

(Silver Reprise)

Ogon Batto

1' 28''

Green Gloss

Ogon Batto

4' 41''

Temple Tennis

Ogon Batto

4' 14''

Doubledecker Dragon

Ogon Batto

1' 03''

Erotic Error

Ogon Batto

1' 02''

Did You Know I Am A Female?

Ogon Batto

3' 40''

Theme

(Choir Reprise 2)

Ogon Batto

11''

Swimming Pool

Ogon Batto

1' 01''

Spirit Of Ecstasy

Ogon Batto

2' 55''
Auch schön: