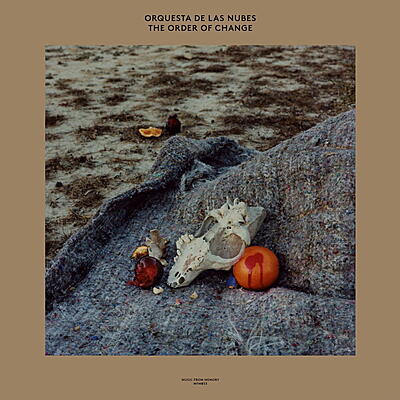 Music From Memory's latest compilation focuses on Suso Saiz's output as part of the group Orquesta De Las Nubes, formed by Suso Saiz and percussionist Pedro Estevan when the two met whilst studying a course on 'Techniques of Contemporary Composition' in Madrid.

"The Order Of Change "is a compilation of their experimental and minimalist ambient/world/new age sound with tracks taken from their releases '83-'87 and their compilation in 1993.

RIYL K.Leimer, Pablo's Eyes, Durutti Column.
Orquestra De Las Nubes

:

The Order Of Change

Un Regalo

Orquestra De Las Nubes

2' 00''

Vendrán Lluvias Suaves

Orquestra De Las Nubes

2' 00''

Tres Ostras

Orquestra De Las Nubes

1' 38''

Tiempo De Espera

Orquestra De Las Nubes

2' 00''

Para Que Pasen Las Termitas

Orquestra De Las Nubes

2' 00''

Cama Diarmónica

Orquestra De Las Nubes

2' 00''

Como Un Guante

Orquestra De Las Nubes

2' 00''

El Orden Del Azar

Orquestra De Las Nubes

2' 00''

Me Paro Cuando Suena - Divertimento Segundo

Orquestra De Las Nubes

2' 00''

Ella No Lleva Gafas

Orquestra De Las Nubes

2' 00''
Auch schön: