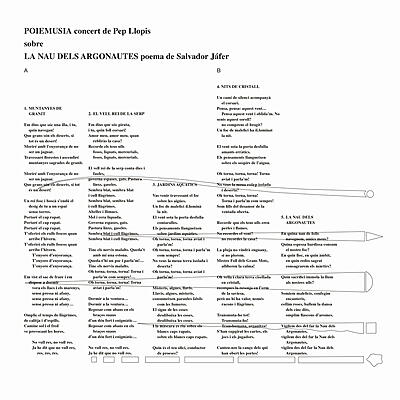 LP: Includes download, Stickered label, insert(s).
Incl. Instant Download
Llopis was influenced by minimal American composers like Steve Reich and La Monte Young. He embraces the melodic sides of these masters in the winds of "El Vell Rei De La Serp" and the tender piano on "Nits de cristall." You will find yourself submerged in tonality on tracks like "Jardins Aquàtics" and "La Nau Dels Argonautes" which have a kinship to Philip Glass or Daniel Lentz. Each piece extends from 5 to almost 14 minutes.

Poiemusia La Nau Dels Argonautes offers a Mediterranean journey, one that Ulysses, Aeneas, and Jason with his Argonauts charted first and Valencian artist, Pep Llopis, retraced and retread from the islands of Menorca to Santorini.
Pep Llopis

:

Poiemusia

Muntanyes de granit

Pep Llopis

10' 42''

El vell Rei de la serp

Pep Llopis

13' 21''

Jardins aquàtics

Pep Llopis

5' 59''

Nits de cristall

Pep Llopis

10' 37''

La nau dels argonautes

Pep Llopis

6' 42''
Auch schön: