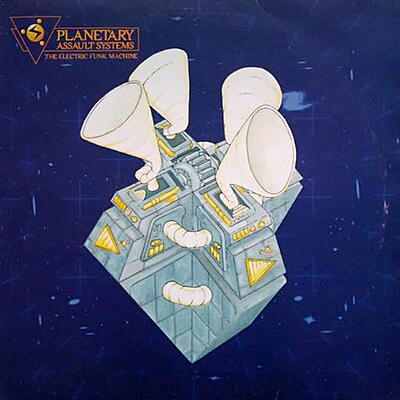 Perhaps Luke Slater's best known alias, Planetary Assault Systems, debuted on Peacefrog in the early 1990's with the superb Planetary Funk series of 12" making Luke and his PAS moniker synonymous with Peacefrog and the techno clubs of the day. The popularity of the series lead to Planetary Assault System's first full length album, the masterful Electric Funk Machine released in 1997.

Planetary Assault Systems compelling mix of techno from Detroit and Europe blessed The Electric Funk Machine with a wide variety of styles and sounds covered through it's nine tracks, Fast paced melodies, uplifting synth stabs, pounding peak time bangers and darker monotonous grooves sit side by side with lush soulful dreamy Detroit infused journeys.

Timeless gems that every self-respcting techno head should own.
Planetary Assault System

:

The Electric Funk Machine

Searchin'

Planetary Assaullt System

6' 21''

The Menace

Planetary Assaullt System

3' 47''

Exploration Of The Ravish

Planetary Assaullt System

5' 07''

The Return

Planetary Assaullt System

6' 56''

The Dream

Planetary Assaullt System

3' 17''

The Battle

Planetary Assaullt System

4' 29''

Signal

Planetary Assaullt System

3' 07''

Shaken

Planetary Assaullt System

8' 36''

The Parting

Planetary Assaullt System

7' 25''
Auch schön: