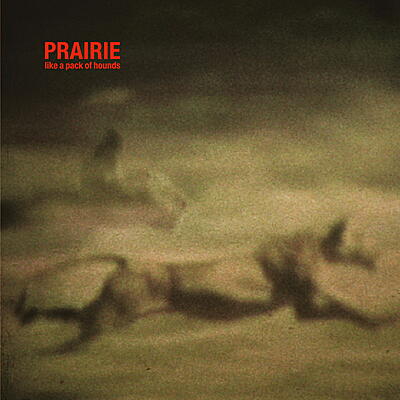 LP: Includes download, DL code also includes the artist's first EP
Incl. Instant Download
PRAIRIE aus Brüssel ist ein Projekt von Marc Jacobs. Gebürtiger Niederländer, seit 20 Jahren wohnhaft in Brüssel. Er arbeitet für das profilierte Brüssler Musik/Kunst-Venue Bozar, das Deep In The Woods – Arts and Nature Festvial und ist einer der Kuratoren des Brüssler Film Festivals. All das kann man hören im Sound von Prarie.

Doch zurück zum Anfang: Prairie debütierte im Januar 2013 mit einer herrlich darken EP namens "I'm So In Love I Almost Forgot I Survived A Disaster".
Oft unter dem Label Ambient abgelegt, ist Prairie doch eher Ausdruck einer düsteren Reise durch ein ganzes Geflecht aus Post-Post-Rock-Reminiszenzen, Schichtungen und Agglomerationen und kraftvollen Drones.

Ende Februar erscheint nun mit "Like A Pack Of Hounds" das Album Debüt – neun Tracks voll fragiler, auf- und abschwellender, schmerzender Schönheit, karger Soundlandschaften und bedrohlicher Gitarren-Echos.

Bei den Stücken "Elle See" und "Closed for Thirty Midnights" gesellen sich Gesangs-Performances dazu, auf ersterem hören wir die kristalline Stimme der französischen Performerin Lucille Calmel, auf letzterem die Stimme von Marc Jacobs selbst.

Die CD- und Digital-Veröffentlichung beinhalten die erste EP – der LP-Version liegt sie als Download Code bei.
Prairie

:

Like A Pack Of Hounds

Looking Back My Sweet

Prairie

4' 41''

Hell & Fix

Prairie

4' 12''

Closed For Thirty Midnights

Prairie

3' 29''

On Minoan Lines

Prairie

3' 01''

A Demon Will Hurt You

Prairie

5' 58''

Disarm Your

Prairie

4' 55''

California

Prairie

11' 10''

Veronica Or Die

Prairie

3' 37''

Scars In Heaven

Prairie

4' 24''

Black Snow

Prairie

3' 15''

Tigers Anyway

Prairie

2' 59''

Red To Drive Me

Prairie

5' 12''
Auch schön: