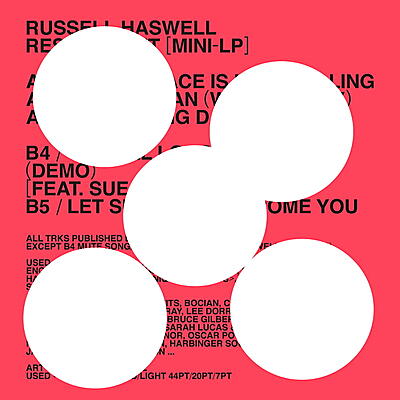 LP: Ltd. to 500 copies on red transparent vinyl
Incl. Instant Download
Russell Haswell returns to Diagonal with a new five-track mini-album called Respondent. Not quite an EP nor long enough for a full album, this record marks a significant shift in direction for Haswell, who collaborates with a vocalist, Sue Tompkins, for the first time in a career defined by its unorthodoxy that now stretches Haswell says Respondent is influenced by these formative years when he was exposed to new sounds and ideas but lacked the ability and equipment needed to express himself. "In a way I'm regressing, but I'm not trying to regress with the music," he says. "What I'm trying to do is think about how I felt and the energy and what this stuff communicated to me."

Respondent's juiciest cut is "Special Long Version (Demo) Feat. Sue Tompkins". One second shy of 10 minutes, this is Haswell's definition of house music. Taking cues from vintage Chicago tracks such as "Your Love" by Frankie Knuckles, Muff Man's "Sit On the Face" and Maurice Joshua's "I Gotta Big Dick", Haswell forces their essence through his filters, distilling the sexual energy to a crude groove, while Tompkins, a Glasgow-based artist formerly of the band Life Without Buildings, talks, shouts and sings, her voice distorted and dulcet. "I want your love," she says at one point.

"Let Suffering Become You" is a mangled acid stomp that starts with a sample from the 1980 punk documentary D.O.A.: A Rite of Passage, with Guinness heir Jonathan Guinness haughtily observing: "An awful lot of people who enjoy punk would really like to be back in those days when they could actually see physical people hacking each other to death." Elsewhere, "First In Man" is a cavernous dub speckled track, with spasmodic lasers, dedicated to Diagonal co-founder Jaimie Williams.

Haswell has chosen to release this material as a mini-album because he considers it an "underused format", citing as a classic example New Order's merger of their two early singles "Everything's Gone Green" and "Temptation" on to one five-track 12-inch, titled "1981-1982", for the US market.

He views this release as a stepping stone to his next project, an album featuring a number of guests. So don't rule out that Kylie collaboration just yet.
Russell Haswell

:

Respondent

The Surface Is Unrevealing

Russell Haswell

2' 52''

First In Man

(Williams Mix)

Russell Haswell

5' 17''

Worsening Daily

Russell Haswell

4' 03''

Special Long Version

(feat. Sue Tompkins)

Russell Haswell

9' 59''

Let Suffering Become You

Russell Haswell

2' 45''
Auch schön: