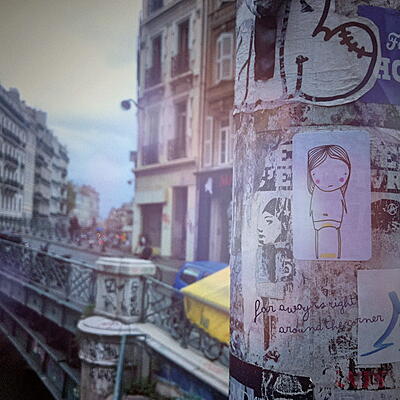 Incl. Instant Download
Monika Enterprise presents the debut album by Cologne artist Sonae: 'Far away is right around the corner'. Containing 10 tracks written between 2012 and 2014 the record deals with reflections about friendship, growing up and everyday life full of hope as far away is right around the corner. Sonae's music is wide, flowery and raw from the very quiet (Ambient) to tiny club moments (Electronica) always embedded in an electronic soundscape.

About Sonae:
Sonae put out her first release in August 2012 with the two-track EP 'Cologne' on Ambient & Electronica label A Strangely Isolated Place. Her remix of 'Saint' by Markus Guentner followed in 2013, a compilation release for 'Entmutigt' and 'Song of Hate and Anger' was included as the last track on Markus Guentner's exclusive mixtape for Substrata Festival which also featured artists such as Ismael Pinkler, Gustavo Lamas and Rafael Anton Irisarri. It also was the year of Sonae's live debut at the Perspectives Festival in Berlin where she performed as part of an immense lineup alongside the likes of Ada, Electric Indigo, Mimicof, Islaja and many more. In 2014 Sonae appeared at Art's Birthday Party at Södern Teatern Stockholm, t.a.t. Cologne and the Ambientmusikzimmer at Weltkunstzimmer Düsseldorf. In August she released a remix for Ambient artist '36' and in December the 'Shirley M. EP' a split release with Austrian musican Chra.

Besides her music work, Sonae is an active member of female:pressure, an international network of female artists in Electronic Music, who organised the 'female:pressure Electronic Concert' series in Cologne and recent events in Berlin.

Sonae's ambient creations inhabit a subtle space within the musical cosmos; one where you can go to experience a kind of sonic weightlessness - just float off and let the sound waves wash over you.
Sonae

:

Far Away Is Right Around The Corner

Gewitterspaziergang

Sonae

4' 13''

Far Away Is Right Around The Corner

Sonae

3' 54''

Cio D'Or

(Distanz - Sonae Remix)

Sonae

6' 41''

Überwindung

Sonae

5' 31''

Song Of Hate And Anger

Sonae

3' 38''

Hot Summerday

Sonae

3' 23''

I Know A Fish

Sonae

5' 45''

Not The Moon - I Don't See Any Flowers There

Sonae

6' 23''
Auch schön: