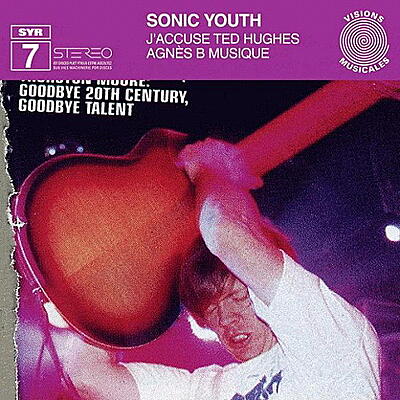 The seventh installment in Sonic Youth's series of experimental and sometimes instrumental releases on the band's own SYR label features on the A-side a previously unreleased 22-minute drone piece recorded at the All Tomorrows Parties festival in the UK in April of 2001. At ATP, the band previewed instrumental and early versions of songs from the then soon-to-be recorded NYC Ghosts & Flowers album, and this exclusive performance was the premiere of "J'Accuse Ted Hughes."
The B-side is a soundtrack-style piece recorded at the band's Murray Street Studio in 2003 for a never-realized collaboration with French clothing designer Agnes B. The 18-minute-long song was recorded by a five-piece version of the band--the four members of Sonic Youth plus Jim O'Rourke, who also mixed "Agnes B Musique."
This LP will be soon followed by a CD-only release of the band's Another Side of Sonic Youth Roskilde Festival performance, where the five-piece Sonic Youth line-up was joined by saxophonist/reed player Mats Gustaffson and electronic noise legend Merzbow for an hour of improvised music.
Sonic Youth

:

J'accuse Ted Hughes

J'accuse Ted Hughes

Sonic Youth

22' 57''

Agnes B Musique

Sonic Youth

18' 37''
Auch schön: