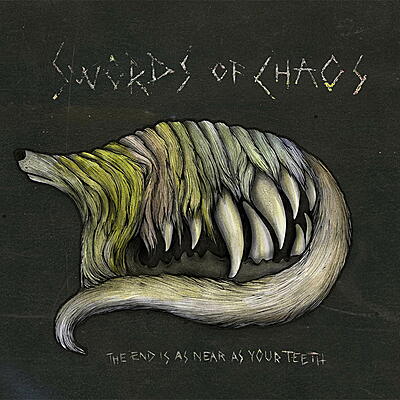 Swords Of Chaos
The End Is As Near As Your Teeth
KR 019 CD
Incl. Instant Download
Swords of Chaos' bludgeoning riffage has left the unsuspecting audiences of their shows perplexed and agitated. This thrilling Reykjavík-foursome has been gathering substantial local admiration with neck-breaking performances since early 2008.
Swords of Chaos are made up of seasoned members of Reykjavík's underground music scene, each dabbling in a variety of genres, but joining forces to push the envelope of extreme sound. As an uncompromising blend of masterful noisecore packed with filth and tormented guitar riffs, THE END IS AS NEAR AS YOUR TEETH is a portrayal of their live shows.
The album contains 11 songs of hardcore rock and roll, frantic vocals, dash of eerie soundscapes and thrilling interludes. Plus some brass and some help from Kira Kira, appearing in Alexis Mardas. THE END IS AS NEAR AS YOUR TEETH is around 30 minutes of pure energy and excitement and should leave you with a dark mind and grin on your face.
Swords Of Chaos

:

The End Is As Near As Your Teeth

Exquisite Corpse

(Album Version)

Swords Of Chaos

2' 49''

Throne Of Blood

(Album Version)

Swords Of Chaos

2' 30''

Mandibular Wolf Tooth In Horse

(Album Version)

Swords Of Chaos

1' 11''

Skeletons Having Sex On A Tin Roof

(Album Version)

Swords Of Chaos

1' 50''

Alexis Mardas

(Album Version)

Swords Of Chaos

4' 29''

Nashkel Mines

(Album Version)

Swords Of Chaos

1' 57''

Ill-Gotten Gains

(Album Version)

Swords Of Chaos

2' 41''

Chaos Wielder

(Album Version)

Swords Of Chaos

2' 20''

Clip-On Disguise Chops

(Album Version)

Swords Of Chaos

2' 37''

Each Thousand Years But A Day

(Album Version)

Swords Of Chaos

1' 21''

Northern Crater

(Album Version)

Swords Of Chaos

6' 20''
Auch schön: