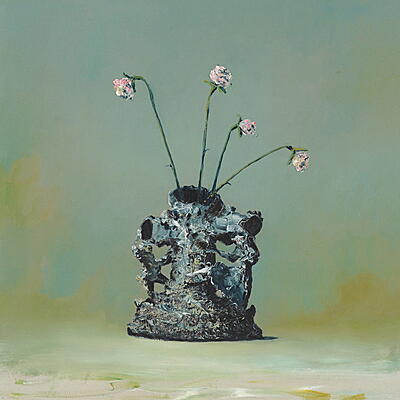 The second of six LPs issued under the title Everywhere At The End of Time, cataloguing The Caretaker's fictional first person account of life with early onset dementia.

This second stage takes a more wistful tack as our protagonist gradually realises that all is not well and begins to rummage deeper into the recesses of his mind, masking emotions of grief, loss, fear and uncertainty.

As The Caretaker's short term memory functions begin to more rapidly erode, the loop-based punctuation of the previous instalment begins to subtly unravel, leading his mind to drift off and ponder upon fuller segments of tea dance strings and horns which appear uncannily more inviting, seductive, and now almost even more tangible than the abbreviated reels of earlier editions.
The Caretaker

:

Everywhere At The End Of Time - Stage 2

A Losing Battle Is Raging

The Caretaker

4' 38''

Misplaces In Time

The Caretaker

4' 43''

What Does It Matter How My Heart Breaks

The Caretaker

2' 38''

Glimpses Of Hope In Trying Times

The Caretaker

4' 43''

Surrendering To Despair

The Caretaker

5' 04''

I Still Feel As Though I Am Me

The Caretaker

4' 08''

Quiet Dusk Coming Early

The Caretaker

3' 37''

Last Moments Of Pure Recall

The Caretaker

3' 53''

Denial Unravelling

The Caretaker

4' 16''

The Way Ahead Feels Lonely

The Caretaker

4' 15''
Auch schön: