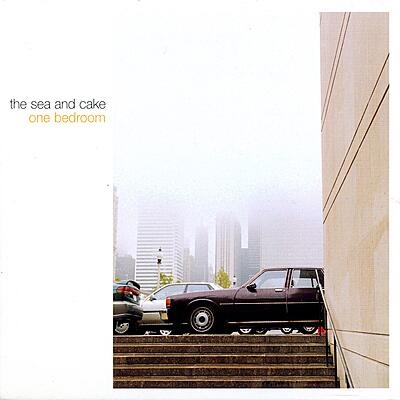 LP: Includes download, 2018 Repress, white vinyl
The Sea and Cake's sixth album One Bedroom is back on vinyl. Pressed on white vinyl and packaged in a high gloss jacket with a free download coupon.

One Bedroom was released in 2003 and followed Oui. The Sea and Cake's sixth album, One Bedroom, is elegant pop. Membrane-like layers of electronic tones and delicate synthesizers surround intricately woven guitars. Melodic bass lines punctuate these restrained and complex sounds. Songs are propelled by imaginative percussion lines and shaped by spare warm vocals. Prekop's lyrical style is poetic as opposed to narrative. Paradoxically, the resulting album of delicate precisely constructed songs sounds effortless. One Bedroom is a beautiful collection of creatively constructed and singular pop songs
.
Choice analog synthesizer tones driving the vocals are brought far more forward on One Bedroom than previous Sea and Cake recordings. Perhaps the biggest surprise of the record comes in their version of Bowie's "Sound and Vision." The version remains faithful to the original yet has the distinctive Sea and Cake stamp of creatively and precisely placed tone and color, delicate guitar touches, and driving rhythms. Prekop's warm vocals are filled out by the baritone vocals of the Aluminum Group's Navin brothers. One Bedroom gracefully illustrates why The Sea and Cake stand quietly alone in pop currents.
The Sea And Cake

:

One Bedroom

Four Corners

The Sea and Cake

5' 44''

Left Side Clouded

The Sea and Cake

3' 15''

Hotel Tell

The Sea and Cake

4' 02''

Le Baron

The Sea and Cake

4' 05''

Shoulder Length

The Sea and Cake

3' 10''

One Bedroom

The Sea and Cake

3' 58''

Interiors

The Sea and Cake

4' 20''

Mr. F

The Sea and Cake

4' 20''

Try Nothing

The Sea and Cake

2' 57''

Sound & Vision

The Sea and Cake

4' 07''
Auch schön: