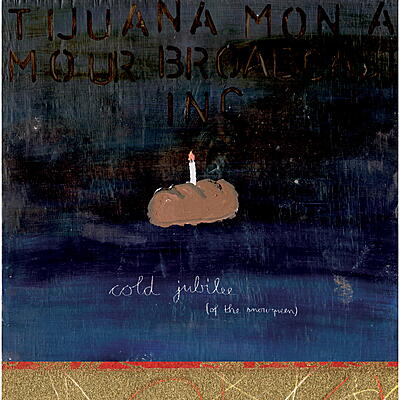 Tijuana Mon Amour Broadcasting Inc.
Cold Jubilee (Of The Snowqueen)
Büro
Büro CD 006
Incl. Instant Download
More than two years in the making, "Cold Jubilee" marks a turning point in the band's history. For the first time ever, TMAB add lyrics to their instrumental kingdom. The album takes you on an emotional rollercoaster which has yet to be build.
Tijuana Mon Amour Broadcasting Inc.

:

Cold Jubilee (Of The Snowqueen)

Exit

Tijuana Mon Amour Broadcasting Inc.

32''

Living In The Future

Tijuana Mon Amour Broadcasting Inc.

3'47''

88

Tijuana Mon Amour Broadcasting Inc.

4'28''

On The Top Of The Mountain

Tijuana Mon Amour Broadcasting Inc.

3'20''

Next Room

Tijuana Mon Amour Broadcasting Inc.

3'36''

Follow Me

Tijuana Mon Amour Broadcasting Inc.

4'16''

Day After

Tijuana Mon Amour Broadcasting Inc.

3'25''

Cold Jubilee

Tijuana Mon Amour Broadcasting Inc.

4'07''

World Without You

Tijuana Mon Amour Broadcasting Inc.

2'02''

Dead Bill

Tijuana Mon Amour Broadcasting Inc.

3'28''

Time Now

Tijuana Mon Amour Broadcasting Inc.

4'05''

... Of The Snow Queen

Tijuana Mon Amour Broadcasting Inc.

4'01''
Auch schön: