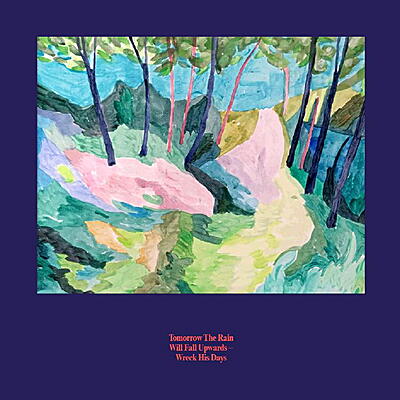 Dubbed-out cosmic pastorals and politically exasperated techno-exotica from Blackest Ever Black's most secretive and shape-shifting project.

Guest contributors include Conrad and Jonnine Standish of HTRK, Genevieve McGuckin (These Immortal Souls), and Lucas Santanna.

The ghosts of Les Baxter, Rowland S. Howard and Nina Simone are also in attendance. But whoever is pulling the strings remains hidden.

Structurally Wreck His Days recalls the grand collective statements of This Mortal Coil or Massive Attack, but musically its dreamlike overtures have more in common with Deux Filles, Global Communication, Arthur Russell, Penguin Cafe Orchestra.
Tomorrow The Rain Will Fall Upwards

:

Wreck His Days

Wreck His Days

Tomorrow The Rain Will Fall Upwards

2' 00''

Ghost From The Coast

Tomorrow The Rain Will Fall Upwards

2' 00''

Reverberasia

Tomorrow The Rain Will Fall Upwards

2' 00''

...And I Tried So Hard

Tomorrow The Rain Will Fall Upwards

2' 00''

I Beat As I Sleep As I Dream

Tomorrow The Rain Will Fall Upwards

1' 23''

Ay Carmela

(Mujeres Libres)

Tomorrow The Rain Will Fall Upwards

2' 00''

Rosa Kollontai

Tomorrow The Rain Will Fall Upwards

2' 00''
Auch schön: