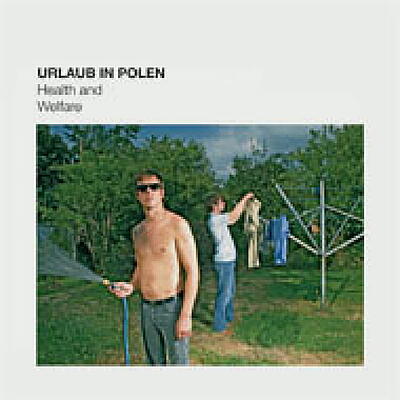 Urlaub In Polen
Health&welfare
Tomlab
Tom087
At the beginning there isnoise. This is everything we already know about Urlaub In Polen inside a minute: the exploration of soundscapes, machines that whir, growl and - most typical of Urlaub In Polen - virtually begin to breath, to develop lives of their own. A condensed transition from old to new, from things familiar to a musical land that has never been heard before, either from Urlaub In Polen or from anyone at all.

The appropriately titled "Wanderlust" is, for even the most progressive listener, a powerful jolt into the program. The first real song on the album, and the word song is used consciously, has a hot stomping beat, guitar licks and a warm melody line building up to a Gospel style climax.

Gospel? Urlaub In Polen? The completely insane duo from Cologne, who are known for playfully switching between deconstructed Post and Noise rock, wild punch-lines, rough reverb-grinding and an almost technoid understanding of song structure? Yes! Because the revelation of opportunities continues, discovering and learning about everything that is possible in the context of the very special dynamic that is a band of two people.

Urlaub In Polen, probably the most single-minded band in Germany at present, have discovered a controlled playfulness, experimenting with mismatched pieces and dynamics, tampering with melodies, sounds, rhythms, structures, instruments and noise generators, without ever losing sight of their main aim - to produce a unified piece of work: that's the story behind their third album, "Health and Welfare".

The maxim was to work on song-sketches in the studio without being constricted by a time limit. This is something they have both experienced in similar ways in separate projects since making the album "White Spot": Philipp with his other incarnation, the enormously conceptual Von Spar, Georg as a temporary member of Ken, the second band of the singer of Blackmail, Aydo Abay.

In Bertil Mark, an extraordinarily active musician/engineer/producer of the German underground, they found the perfect partner. With the M.A.R.S., "Modern Institute for the Savagely Stupid" and the artist commune in the Eifel region that was initiated by Thomas D., where Bertil lives, they also found the perfect place. Here they created a supersonic galaxy of musical absurdity, which transformed into a highly uncompromising version of pop-music.

The process of discovery has been most important. There are many surprises on this album. Perhaps the biggest is that Georg sings, not using his voice as another effect but using singing, as it is more commonly known, as an important element of the song. Here again is the discovery of possibilities. The first song that was written for the album is based on a vocoder lick - the melody for the voice must actually be played at the same time by the keyboard. "While transposing this lick for Georg's voice we suddenly realised that we could actually add a real melody line. From that moment on, we aimed to work on real melodies in many of the songs", says Philipp.

And on the aspect of surprise he says: "I'm always really happy when we stumble upon elements while working on songs, that are unfamiliar even to us as musicians. To surprise yourself is a very pleasing feeling. Every time we banged out something in the studio, that was new in our music, there was a moment of pure joy"

Now this joy is ours. Because we can witness the reincarnation of a band that was always very special and, despite moving visibly closer to more standard musical structures, remains so. Because we can listen to two pathological sound-individuals as they break out of the normal niche of session-driven song composition and think something through to the end in such an astonishing way. After such a consciously concentrated and clearly poignant beginning, the album ends, again, in noise. Noise as a conciliatory gesture - where has that ever happened before?
Urlaub In Polen

:

Health&welfare

Wanderlust

Urlaub In Polen

5' 14''

Beatrice

Urlaub In Polen

4' 38''

Inkin Ark

Urlaub In Polen

4' 18''

D.t.w.i.l

Urlaub In Polen

4' 26''

A Case Of Getting From A To B

Urlaub In Polen

1' 18''

A Case Of Getting From B To C

Urlaub In Polen

2' 33''

A Case Of Getting From C To D

Urlaub In Polen

3' 16''

Crash

Urlaub In Polen

3' 15''

La Gallina

Urlaub In Polen

2' 23''

The Health And Welfare

Urlaub In Polen

8' 58''
Auch schön: