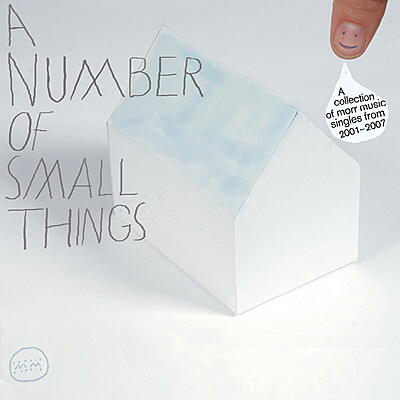 Various Artists
A Number Of Small Things (A Collection Of Morr Music Singles From 2001 - 2007)
Morr Music
morr 079-dcd
Incl. Instant Download
Das Ohr hört nach hinten. Eine akustische Verschnaufpause, und doch auch three steps beyond. Beginnt doch diese zusammenfassende Werkschau der kleinen Morr Music-Schwester A Number of Small Things mit dreimal zwei brandneuen Stücken, die erst in den kommenden Wochen als Vinyl erscheinen werden. Später mehr dazu.
Gehen wir zunächst zurück. Zu Bernhard Fleischmanns Nico aus dem Herbst 2001 etwa. Eine glitzernde Ode, so nonchalant und doch hintergründig wie die gleichnamige Legende. Ein guter Start für die kleinen Geschichten, die A Number of Small Things fortan erzählen sollte. Geschichten aus dem Herzland von Morr Music, die doch nach dieser besonderen, persönlichen Plattform verlangt haben. Zweimal fünf Vinylminuten, höchstens. Anders gesagt: Eine Ewigkeit.
Markus Achers (Tied & Tickled Trio, etc.) und Valerie Trebeljahrs Alter Ego John & Yoko nutzte die Zeit für eine kongeniale Coverversion von Smogs Morning Paper. Isan dachten Melancholie und Minimalismus zusammen - auf der Grundlage von Eric Saties kargen Klavierlandschaften Gymnopedie. Masha Qrella schließlich brachte das ganz große Popversprechen auf den Punkt. Ihre Version von Brian Ferrys "Don't Stop the Dance" wurde ein kleiner Radiohit. Von einer die ausgezogen war, die Grenzen von Indierock und Wohnzimmer-Elektronika hinter sich zu lassen. Überhaupt ist das eine Geschichte hinter A Number of Small Things: Im Kleinen zu Größe finden.
Wobei diese Compilation die Geschichte genau anders herum erzählt. Weswegen am Anfang eben ein Ausblick steht. Auf Butcher the Bar, einen jungen melanchiolischen Engländer. Auf die Zusammenarbeit von Anthony Ryan (Isan) und Simon Scott (Ex-Slowdive), die unter dem Namen Seavault in die Hallräume vergangener Britpopherrlichkeiten hinabgestiegen sind. Auf die isländischen Seabear und ihre gleichzeitig souveräne und unschuldige Definition von Indiepop.
So etwas darf man von A Number of Small Things erwarten. Auch in Zukunft, auf den nächsten zwanzig Vinyldoppelseiten.
Various Artists

:

A Number Of Small Things (A Collection Of Morr Music Singles From 2001 - 2007)

Get Away

(Sampler Version)

Butcher the Bar

3' 20''

Leave This Town

(Sampler Version)

Butcher the Bar

3' 04''

Skvavars

(Sampler Version)

Benni Hemm Hemm

3' 40''

Aldrei

(Featuring Jens Lekman - Sampler Version)

Benni Hemm Hemm

3' 53''

The Mercy Seat

(Sampler Version)

Seavault

4' 43''

I Could Be Happy

(Sampler Version)

Seavault

5' 06''

Teenage Kicks

(Sampler Version)

Seabear

2' 47''

Piano Hands

(Sampler Version)

Seabear

3' 51''

Don´t Stop The Dance

(Sampler Version)

Masha Qrella

4' 33''

Saturday Night

(Sampler Version)

Masha Qrella

4' 08''

Beginning End

(Sampler Version)

Benni Hemm Hemm

2' 24''

Beygja Og Beygja

(Sampler Version)

Benni Hemm Hemm

2' 58''

I´m Not The Lonely Son (I´m The Ghost)

(Sampler Version)

Electric President

3' 17''

Wearing Influences On Our Sleeve-less T-shirts

(Sampler Version)

Electric President

3' 51''

Good Ol´ Boys

(Sampler Version)

Electric President

4' 06''

Dotted Lines

(Sampler Version)

Electric President

4' 06''

Papa Was A Rodeo

(Sampler Version)

John Yoko

4' 07''

Morning Paper

(Sampler Version)

John Yoko

5' 38''

Breathes The Best

(Sampler Version)

Populous

2' 13''

Bon Bon Pour Les Rappers

(Sampler Version)

Populous

2' 27''

Blood Red Bird

(Sampler Version)

Populous

4' 26''

Frisky He Said

(Sampler Version)

B. Fleischmann

3' 54''

Broken Monitors

(Sampler Version)

B. Fleischmann

6' 15''

No. 1.

(Lent Et Douloureux - Sampler Version)

Isan

2' 35''

No. 2.

(Lent Et Triste - Sampler Version)

Isan

1' 55''

No. 3.

(Lent Et Grave - Sampler Version)

Isan

2' 12''

To Simply Lie Here And Breathe

(Sampler Version)

Styrofoam

5' 56''

Oh, But You Are, Really

(Sampler Version)

Styrofoam

4' 38''

Home

(Sampler Version)

Teamforest

5' 35''

I Cannot Care As Much As I´d Like To

(Sampler Version)

Teamforest

3' 27''

Nin-com-pop

(Two Lone Swordsmen - Sampler Version)

Lali Puna

3' 27''

Nin-com-pop

(T. Leboeg Mix - Sampler Version)

Lali Puna

4' 35''

On A Clear Day

(Sampler Version)

Other People's Children

5' 57''

Suicide Common

(Sampler Version)

Other People's Children

5' 47''

Nico

(Sampler Version)

B. Fleischmann

6' 04''

Hyvä Päivä

(Sampler Version)

B. Fleischmann

6' 14''
Auch schön: