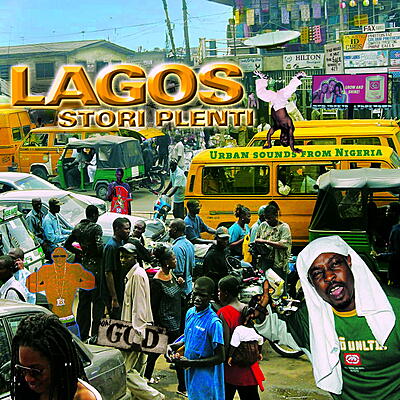 Hi, do you trust Nigerians, the kind of people who are rugged and resilient, shady like Sicilians? In the opening track 'I am a Nigerian' Terry tha Rapman from Lagos shares his daily life experience quoting a song by one of his favourite rappers from the US: "I buy fake designer clothes from Aba, you wanna try? Who needs Calvin Klein, when you got Oko Klien? My shoes are dead from trekking, I`m close to stealing yours and exchanging your designer boxers with my stinking drawers. So tell me, am I dead or alive? I can barely decide, so many times I contemplated suicide ...".
'Lagos stori plenti' is about tapping into the lyrical and musical expressions of a young generation from the largest country in Africa. A generation that grew up on hip-hop, reggae and dancehall in one of the craziest cities in the world. This is the first internationally released compilation that presents this new sound from Nigeria.
It is about guys like Eedris Abdulkareem from Kano coming to Lagos with nothing in his pocket but a dream to make it as a musician. Eight years later he tours Nigeria with 50 Cent, but gets into a fight with 50 Cent's bodyguards, feeling Nigerian artists on the tour are not getting the respect they deserve. There is Ruggedman who took hip-hop to a new level by dissing many of the fake American sounding rap star wannabees.
Another voice comes from the Nigerian Diaspora. It is the innovative force in terms of sound. JJC from London experiments with fusing traditional instruments into his productions. Bantu living in Cologne just came up with a new mix of fuji and afrobeat on his Kora award-winning album 'Fuji Satisfaction' and created a style that could not have come out of Lagos. Afrobeat is represented by Dede Mabiaku, who used to open shows for the late Fela and releases his first track internationally here.
The most vibrant music comes from Lagos' neglected ghetto Ajegunle (AJ). Nigeria's Kingston as some call it, lives on reggae/dancehall with an own style of Pidgin and hilarious dancing. AJ is represented here by Nutty & Wharfy and African China from neighbouring Orile whose song 'Mr President' is huge in Lagos at the moment.
Then there are the guys who rap in English: Modenine and Terry tha Rapman. Check out Modenine's '419 state of mind pt. 2' that takes up the topic of 419, the legal term for the so-called 'advance fee fraud', a form of crime the country has become notorious for. Six Foot + with his song 'Anwuli', about a girl he loved an trusted, with the chorus: "Anwuli, she chop (eat) my money and go…" or Terry tha Rapman in 'I am a Nigerian' whose girlfriend feels that: "Nigerian men are not romantic, they don't buy expensive gifts". Fed up with his situation, he sums up his feelings: "…I`m a very angry man, arrgh, so don't tempt me man. Just for letting you live, you oughta thank me man, cuz we live in a country, where nothin` works and it drives me beserk to face another day wit an empty purse."
Various Artists

:

Lagos Stori Plenti

I am a Nigerian

Terry tha Rapman

4'38''

Demu Gani

(feat. T.i.D.)

JJC + 419 Squad

4'04''

Letter to the President

Eedris Abdulkareem

4'54''

Odolayé

Azadus, Bantu, Modenine, Dede

5'25''

419 state of mind pt.2

(feat. OD)

Modenine

4'10''

Give me a chance

Nutty + Wharfy

4'25''

Mr. President

(feat. Efe)

African China

5'15''

Oya

(feat. Ajuba)

Bantu

6'15''

Niger Delta Jam

Dede

8'18''
Auch schön: