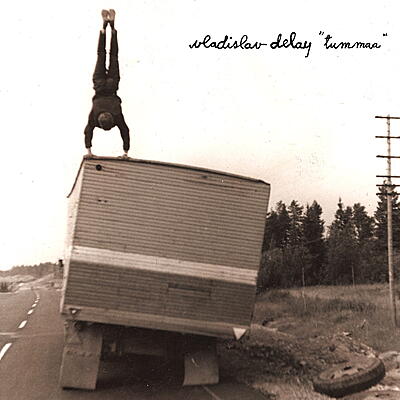 Finnish composer Sasu Ripatti returns with Tummaa, his first album as Vladislav Delay since 2007's Whistleblower. The new full-length marks a significant shift in emphasis in this acclaimed musician's work, reflecting a renewed interest in jazz and acoustic performance--Tummaa is far more organic and live-sounding than anything he's done before. Ripatti is a genuine musical maverick. Trained as a jazz drummer, he abandoned his instrument ten years ago. While he has largely shunned the limelight since emerging as a producer in Helsinki in the late '90s, his prolific output (as Delay, Luomo and Uusitalo, as well as collaborations with partner Antye Greie) speaks for itself.

Tummaa marks a return to Ripatti's first love of performing as a percussionist. The album essentially features a live trio--Ripatti, Argentine musician Lucio Capece on clarinet and saxophone, and acclaimed Scottish soundtrack composer and arranger Craig Armstrong on piano and Rhodes. Ripatti set the tone, recording his drum parts and then inviting Capece to his studio to improvise alongside the drums. Armstrong offered recordings of pure solo piano playing he had made for the project. From these two sound sources, Ripatti began composing and arranging, and wrote a whole suite of music.

The results are jaw-dropping. Ripatti is venerated as a master of rhythm and a true artisan of the studio (the photos of his immaculate analog equipment from The Wire's 2008 cover shoot had gear hounds aquiver), and captures resonant, organic, and acoustic sounds, coercing them into unearthly cadences and foreign textures that are unlike anything else--yet irresistibly hypnotic. His love of jazz is also never far from the surface. Armstrong's waterfall piano and Rhodes infuse "Melankolia" with sweeping emotion amid the tension and intensity of Ripatti's fractured, almost industrial percussive fragments, anticipatory fizzes, and low-end hums. In some ways, this is a very gentle introduction to the incredible galaxy of sound contained on "Kuula (Kiitos)," where glimmering piano bleeds into the fabric of Capece's strangled bass clarinet and muffled soprano sax, entwined with a scattering of grainy beats.

By far the most immediately striking piece is the woody, resounding animal honk of "Mustelmia" where a defiantly springy, bouncy array of volcanic beats and liquid gulps and pops erupt in response to Capece's eerie tones and textures. While 'Musta Planeetta" is a more meditative play across the keyboard timbres, "Toive" builds into a crescendo of throbbing, submarine percussion, Capece's horns like distant wildlife in a tropical forest. "Tummaa" has a cavernous dub sensibility, all ricocheting percussion and the Rhodes distilled to stabs or glistening feedback reverberations. "Tunnelivisio" burrows even deeper into the echo chamber, lending a cinematic drama to the album's finale.
Vladislav Delay

:

Tummaa

Melankolia

Vladislav Delay

10' 58''

Kuula

(Kiitos)

Vladislav Delay

9' 02''

Mustelmia

Vladislav Delay

8' 13''

Musta Planeetta

Vladislav Delay

5' 11''

Toive

Vladislav Delay

11' 09''

Tummaa

Vladislav Delay

10' 19''

Tunnelivisio

Vladislav Delay

11' 16''
Auch schön: